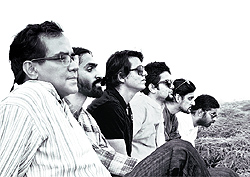 The depth of sound
He doesn't have a fixation with water bodies. Yet, his first album was called Depths of the Ocean, the second, Ocean to Ocean, and his former band — Indian Ocean. Former founding member and guitarist of the Indian fusion band, Susmit Sen graced a literary event in Chandigarh recently, and is glad to see the inclusion of musicians at such events.

Susmit sen (extreme left) with members of Susmit Sen chronicles

Right in the act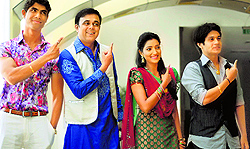 During a visit to Ludhiana for the promotion of Sab TV's show Badi Dooooor Se Aye Hain, actor Sumeet Raghavan gets candid about working in the daily series, his passion for music, getting back to theatre and more. For the fulfilling experience as an actor, he turns to theatre. "I have gone back to theatre after a long time. It is a fulfilling, rejuvenating and relaxing experience for me," says the actor.
Happy team: (L-R) Puneet Talreja, Sumeet Raghavan, Rupali Bhonsale and Vinay Rohrra

Ocean treasure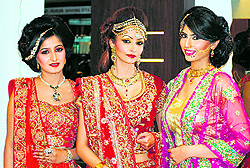 Come bridal season and the hunt for that perfect attire, looks and manner begins. Keeping this in mind, Headmasters, a salon in Chandigarh, has tied-up with SeaSoul, an organic skincare brand from Australia, for its services and products. Manisha Chopra, co-founder, SeaSoul, who came calling to the city to promote her brand, informs, "SeaSoul Dead Sea customised facial starts with a skin analysis, the facial treatments and is customised for every client."
Models in the bridal look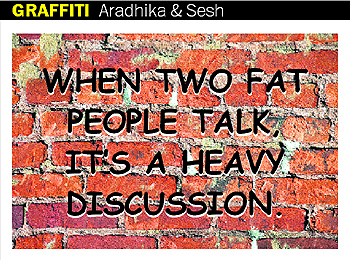 Doc Talk
Align & smile
Many patients visit dentists quite concerned about their facial proportions not being ideal. However, there are many parents who think that a slightly flat face or protruding chin is an attractive feature of their child, not knowing that it could be a worrying sign.
Something for all!
When it comes to shopping, most of us have been romancing the idea of end of season sales. So, it's time to visit the pre-winter exhibition, titled Trends, at the Kisan Bhawan soon. "We bring this exhibition to the Chandigarh folks before summer, during Raksha Bandhan and before winter.
star track
A sweet message
If there is anyone who is happy for Shraddha Kapoor's back-to-back success with Aashiqui 2, Ek Villain and now Haider, apart from her family, it is her house help. This domestic help has been in Shraddha's house from the time she was a kid and she has been there with her throughout.



Looking forward to a happy ending?
Arpita ties the knot


Arpita Khan with Aayush Sharma
A sneek peak into Salman Khan's sister Arpita Khan's marriage with businessman Aayush Sharma at a hotel in Hyderabad on Tuesday. The wedding had been under a lot of media scrunity. It has been a lavish affair with guests like Katrina Kaif, Aamir Khan, Kiran Rao, Karan Johar and the likes blessing the newly wed. —PTI
chatter box
Get set to revisit history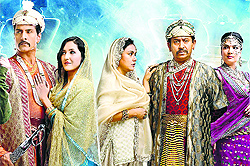 After much anticipation, The Epic Channel made its debut on television screens on November 19. Spearheaded by Mahesh Samat, managing director, The Epic Television Networks is the first genre specific Hindi entertainment channel that will showcase content based on Indian history, mythology and folklore in a uniquely contemporary format.

Drama dates: The Epic Channel promises a variety of historical dramas

The year ahead
If your birthday is November 20...