M A I N N E W S
US Prez gets Modi's Republic Day invite, says yes
Ashish Kumar Sen & KV Prasad
Tribune News Service


First US Prez to visit twice in office

Obama will be the first US Prez to attend R-Day


He will be the first sitting US Prez to visit India twice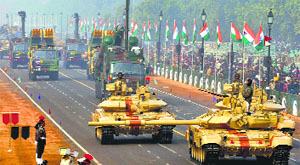 We have received a confirmation through diplomatic channels of Obama agreeing to come to India as the first US President for a Republic Day function as the chief guest
Syed Akbaruddin, mea spokesperson
Washington/New Delhi, November 21
US President Barack Obama has accepted Prime Minister Narendra Modi's invitation to be the chief guest at Republic Day celebrations on January 26 in New Delhi.
This will be the first time when a US President will be the guest of honour at an event that both India and the United States hold close to their hearts — the founding day of the Constitution. Also, Obama will be the first US President to visit India twice while still in office.
"The visit will mark the first time a US President will have the honour of attending Republic Day, which commemorates the adoption of India's Constitution," White House press secretary Josh Earnest said in a statement.
The MEA said following Modi's return from the US, he took a personal initiative and extended an invitation to President Obama. As follow-up details were worked through diplomatic channels, Modi in his tweet broke the news today.
Ed Royce, California Democrat and chairman of the House Foreign Affairs Committee, welcomed Obama's decision to visit India.
"Frankly, [the US-India relationship] has been a relationship that unfortunately has struggled to find its footing in the last several years," Royce said. "The President's visit could be another important step in getting this relationship back on track."