M A I N N E W S
Don't want to burden salaried class: FM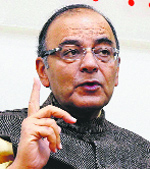 Arun Jaitley, fM
New Delhi, November 22
Finance Minister Arun Jaitley today said he does not favour burdening the salaried and middle class with more taxes but would go after the evaders by widening the net.
In fact, he would encourage more money being put in the pockets of taxpayers that will lead to spending and collection of more indirect taxes.
"This widening of the tax base... what does it mean?... I pay the same indirect tax as my attendant. Our volume of consumption may be different. So everybody is paying indirect taxes.
"And literally almost half your taxes are indirect taxes today. He pays excise, he pays customs duty, he pays service tax. Now as far as income tax is concerned, to bring those who evade tax is widening the tax net, I am all for it," the minister said in an interaction.
He was replying to a question on whether his budget would look at widening the tax base to maximise revenue.
Jaitley, who will present his first full-fledged budget in February, said in his last budget he had increased the tax exemption limit from Rs 2 lakh to Rs 2.5 lakh and would even raise it further if he had more money.
"After all what are we talking about Rs 2.5 lakh today means, taking all the deductions which we have given, somebody up to Rs 3.5-4 lakh does not have to pay tax. So we have reached the situation broadly.
"One earning Rs 35,000-40,000 per month, if the person puts some money for savings, (he) won't have to pay tax. But people falling in this bracket say that they don't save anything with salary of Rs 35,000-40,000 (with) the present cost of living, the transport cost, the fee of children and so on," Jaitley said. Therefore, he was against reducing the exemptions to widen the tax net. "Then that's not my approach," he added.
"But it's all fine to bring those who evade tax under the tax net. But to bring this vulnerable section into the tax net, that can't be the policy today. In fact if you put additional money in their pockets and allow them to spend, then I collect correspondingly more indirect taxes so I will rather encourage more economic activity." — PTI
Black money: Govt to revisit tax treaties
The government on Saturday said it was having a relook at some of the bilateral tax treaties signed with foreign countries that may be hindering the repatriation of black money. "Of course, we are," Finance Minister Arun Jaitley said. He said he had sent a delegation recently to Switzerland and they had come back with some "positive movement".