'Forcible' retirement causes resentment among employees
Jind, November 26
They see it as the most disgraceful farewell and no one had expected it from the saffron government in the state. The "forcible" retirement of thousands of government employees serving a two-year extension has not gone down well and invited widespread criticism.

His plan to start business disrupted


Happiness short-lived


Govt decisions anti-people: Hooda


Govt urged to fill vacant posts


1,500 govt college teachers to be affected
---

Subhash Barala is state BJP chief
Chandigarh/Fatehabad, Nov 26
The BJP today appointed Tohana legislator Subhash Barala as the state BJP president. The post had fallen vacant after former president Ram Bilas Sharma joined the Khattar Cabinet as a minister. BJP President Amit Shah made this announcement today by a single line notification on the party's website. Barala was among the front-runners for the post.
A month in saddle, BJP in troubled waters
Chandigarh, November 26
A month into governance and the BJP's Haryana Government is struggling to find its feet — attempting to quell internal rebellion as it "mishandled" its first big crisis in the form of sect head Rampal's arrest, while earning for itself the sobriquet of "roll back government" from the Congress.
Party workers to monitor development work in each segment, says Khattar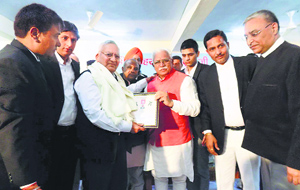 Karnal, November 26
Chief Minister Manohar Lal Khattar today announced that an 11-member monitoring committee would be constituted at the district-level in the state for the effective implementation of various development schemes and projects of the state government.

Chief Minister Manohar Lal Khattar felicitates an advocate on the occasion of Law Day at the district court complex in Karnal on Wednesday. TRIBUNE PHOTO

Cabinet decides
Rs 3-lakh relief for kin of govt staff who die in harness
Chandigarh, November 26
Haryana Chief Minister Manohar Lal Khattar has said that the state government decided to give ex gratia relief of Rs 3 lakh to family of employees, engaged on ad hoc or contract basis, who die during the service period.
Devi Lal industrial model township at Manesar
High Court allows plea against land acquisition
Chandigarh, November 26
More than a decade after a notification was issued for acquiring land for setting up Chaudhary Devi Lal Industrial Model Township's Phase-V at Manesar, the process has come to a naught. The Punjab and Haryana High Court has ruled that the proceedings for land acquisition have lapsed. At the same time, a Division Bench has granted the government the liberty to initiate afresh land acquisition proceedings.
MGNREGS scam report to be reopened, says Vij
Ambala, November 26
The BJP government may reopen files of the Mahatma Gandhi National Rural Employment Guarantee Scheme (MGNREGS) scam, wherein it was found that funds meant for Ambala were allegedly siphoned off during the previous regime of the Congress.
Karnal-Y'nagar four-laning project shelved
Karnal, November 26
The long pending demand for the four laning of the Karnal-Ladwa-Yamunanagar state highway that was approved by the state government two-years-ago has been shelved due to inadequate funds with the state government.
20% cases lie unsolved with Gurgaon police
Gurgaon, November 26
While it may have made a steady progress in speedy registration of crimes, the Gurgaon police are still to add this speed and efficiency to its investigation process as 20 per cent of the cases registered last year are still lying unsolved.
CM orders shifting of city bus stand project venue
Karnal, November 24
With the reversal of several decisions taken by the previous government on Tuesday, Chief Minister Manohar Lal Khattar today ordered to change the site of the city bus stand project, which was earlier passed by the previous Congress government at Sector-12. The stone for the project was laid by former Chief Minister Bhupinder Singh Hooda.
Officers left red-faced at new DC's meeting
Sirsa, November 26
The failure to answer simple questions about their own department's work left many a senior district-level officers red-faced at new DC Nikhil Gajraj's first officers' meeting here today. Gajraj, who took over as DC in Sirsa on Monday, told the officials concerned to come prepared for the meeting next time.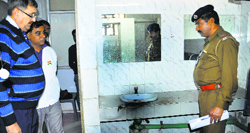 Faridabad boy sets himself on fire
Gurgaon, November 26
In a shocking incident, a class VIII student of a reputed school of Faridabad set himself on fire today. The boy, who sustained 45 per cent burns, was admitted to the Safdurjung hospital, Delhi, in a critical condition.

The Police at Holy Child Public School in Faridabad.
Teachers' selection board scrapped after irregularities: Minister
Kurukshetra November 26
The decision of scrapping the Haryana School Teachers' Selection Board (HSTSB) was taken following irregularities in the selection process. This was stated by Education Minister Ram Bilas Sharma, who was here to inaugurate the Shri Gita Shodh Kendra at Jai Ram Vidyapeeth today.
Three held for selling vehicles on fake papers
Yamunanagar, November 26
A team of the detective staff, Yamunanagar, arrested three persons for selling vehicles on fake documents after changing their chaise and engine numbers.
Miscreants rob Delhi cop of Rs 2 lakh
Rewari, November 26
Two motorcycle-borne miscreants looted a Delhi police constable near the Brass market here today.
Sonepat divided into 4 sectors for better policing
SONEPAT, NOVEMBER 26
B Satish Balan, who took over as SP here, said today that the police had divided Sonepat town into four sectors to rein in traffic congestion, encroachments on roads and unauthorised parking of vehicles on busy roads. Each sector would be manned by a police team headed by an Inspector, the SP added.
First Kurien Memorial Oration Award given to Amrita Patel
Karnal, November 26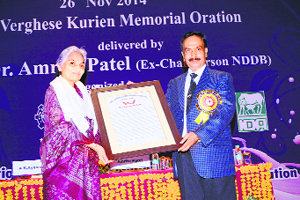 National Dairy Research Institute (NDRI) Director AK Srivastava conferred Dr Verghese Kurien Memorial Oration on Amrita Patel, ex-chairperson, National Dairy Development Board, on National Milk Day today. The NDRI has instituted the award in the name of Dr Verghese Kurien, the father of White Revolution in India. Srivastava, while reading out the citation, said Patel was known for her pioneering work in the dairy development in the country.

NDRI director AK Srivastava gives the Dr Verghese Kurien Memorial Oration Award to Amrita Patel, ex-chairperson, National Dairy Development Board, in Karnal on Wednesday. A Tribune photograph

Pension through banks from January
Chandigarh, November 26
Haryana Social Justice and Empowerment Minister Kavita Jain said that enhanced pension and benefits of other social welfare schemes would be disbursed through banks. This process of disbursement through banks would start on January 1 next year.
Gurgaon residents get 6 months for Aadhaar cards
Gurgaon, November 26
With the Gurgaon district administration today deciding to link Aadhaar cards with every facility, including disbursement of LPG subsidy, all types of scholarships, pensions, allowances, free medicines from government hospitals etc, those who have not yet enrolled themselves have been given six months to do so Presiding over a meeting, Deputy Commissioner TL Satyaprakash all types of benefits under various government-sponsored schemes would be linked with UID after six months. About 73 per cent of the population in this district has so far been enrolled for Aadhaar cards and the rest would be covered by June, 2015. TNS
Panipat Mayor joins BJP
Karnal, November 26
Panipat Mayor Bhupinder Singh joined the BJP with his supporters here today. Welcoming them into the party, Chief Minister Manohar Lal Khattar assured them that they would be given due respect. Bhupinder Singh, who had contested municipal elections as an Independent candidate, quit the INLD to join the BJP . He was elected Mayor of Panipat with the support of Congress councillors. Bhupinder Singh said: "The development of Panipat is my main goal. I will try my best to ensure the development of Panipat". — TNS
1 held for poaching blue bull
Fatehabad, November 26
Poachers killed a blue bull near Dariyapur in Fatehabad today. The police as well as the Wildlife Department took the dead animal's corpse into its possession. Dwarka Prashad, an Inspector in the Wildlife Department at Fatehabad, said the corpse had been sent for a post-mortem. Meanwhile, the police have taken Sube Singh into custody in this connection. — TNS