Restricting use of govt vehicles on the cards
Shimla, November 26
The Cabinet sub-committee on Resource Mobilisation is likely to recommend limiting the number of government vehicles and its private misuse by government employees as part of rationalisation of 2,300 fleet of vehicles owned by the state government.
Amber beacons fail to satisfy MLAs, MPs
Shimla, November 26
Peeved MLAs and MPs are likely to push for red beacons atop their vehicles instead of amber ones and meet the Chief Minister regarding this when the Assembly's winter session begins in Dharamsala.
Apple farmers for standard carton
Shimla, November 26
Apple farmers, commission agents and other stakeholders, today made a united call urging the state government to make good quality standard cartons for apple packing.
BJP to keep Theog-Hatkoti issue alive
Shimla, November 26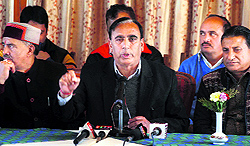 The state BJP today refuted the charge that the party was "politicising" the Theog-Hatkoti road issue and claimed that the agitation for an early completion of the 80-km stretch of road had an overwhelming support of local people suffering due to inordinate delay.


BJP vice-president Narender Bragta addresses a press conference in Shimla on Wednesday. Photo: Amit Kanwar

HPCC chief raps Dhumal
Shimla, November 26
President of Himachal Pradesh Congress Committee (HPCC) Sukhvinder Singh Sukhu today criticised Leader of the Opposition PK Dhumal for his demand of creation of new administrative districts in the state and said the same demand was raised during the previous BJP regime as well, but the BJP did nothing in this regard.
50% seats to be reserved for women soon
Shimla, November 26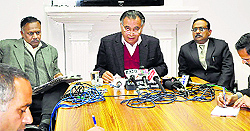 Transport Minister GS Bali today said 50 per cent seats would be reserved for women passengers in local buses, adding that tax incentives would be given to operate buses in the OBC or SC-ST dominated habitations under the new transport policy okayed by the Cabinet yesterday.

Transport Minister GS Bali addresses mediapersons in Shimla on Wednesday. Tribune photo

Fishermen rue damage to fish at Pong Dam
Dharamsala, November 26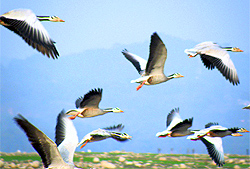 Pong Dam, an internationally recognised wetland, has started receiving winged visitors. But local fishermen and the Fisheries Department are crying hoarse over the damage being caused to fish here by migratory birds, especially great cormorants. The department claimed that the great cormorants have been causing extensive damage to fresh water mussels that generate yellow pearls and fish.

A file photo of the bar-headed geese taking flight at the Pong Dam lake

Training synergy between defence forces need of the hour: Experts


Shimla, November 26
The two-day annual conference of Tri Services Training Commands has stressed the need for training synergy between the three services as paramount prerequisite to achieve operational success.
Army officers after attending the 28th Tri Services Training Commands conference in Shimla on Wednesday. Tribune photo

Panchayat pradhan election result
Re-counting held following court order
Nurpur, November 26
The controversy over the declaration of election result of Chaloh gram panchayat pradhan in Indora development block was finally settled after three years' legal battle.
CM directs contractors to complete works in stipulated time
Kullu, November 26
Chief Minister Virbhadra Singh, while speaking at the concluding ceremony of Buddhi Diwali festival at Nirmand village of this district today, stated that stern action would be taken against contractors found adopting a dilly-dally approach and delaying the development works in the state.
Non-realisation of demand charges
Power Dept slaps additional charges worth lakhs on industries
Solan, November 26
Officials of HP State Electricity Board Limited (HPSEBL) have woken up after 2007 to slap demand charges on peak load on various industrial units, after an audit pointed out that this levy had not been realised from the industrial units since 2007.
Monkeys wreak havoc in Chamba villages
Chamba, November 26
People of remote villages in the district are living under constant fear of monkeys. Most of the affected villages are situated on the fringe of forests where inhabitants are facing maximum destruction by simians. Reports coming from the district headquarters said today.
HRTC bus catches fire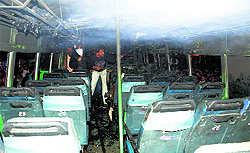 Una, November 26
Locals rescued the passengers of a Himachal Road Transport Corporation (HRTC) bus as it caught fire in front of the Una bus stand late this evening. While the driver and a passenger suffered minor burn injuries, the bus suffered major damage.


Locals douse flames that caught the bus near Una bus stand on Wednesday. Photos: Rajesh Sharma

Timber burnt in Bharmour fire
Bharmour, November 26
A huge lot of timber and firewood were reportedly burnt in a forest fire which broke out near the Bajol panchayat area in Bharmour sub-division early this week, a delayed report said here today.
Disaster management workshop held for Revenue officials
Una, November 26


A workshop on disaster management was organised for Revenue Department officials of Una and Haroli tehsils by the district administration at the Bachat Bhawan here today.

A workshop on disaster management underway at the Bachat Bhawan in Una on Wednesday. Photo: Rajesh Sharma

Health panel meeting held
Shimla, November 26
The first meeting of the HP State Health Commission was held under the chairmanship of Prof MK Bhan, former Union Secretary, here today.
Foodgrain production target set at 7.12 lakh tonnes this season
Shimla, November 26
The target of foodgrains production during the current Rabi season has been fixed at 7.12 lakh tonnes, 3,000 tonne for oilseeds, 38.10 thousand tonne for potato and 5.60 lakh tonne for vegetables, Director (Agriculture) Dr JC Rana said yesterday.
5 booked for assaulting officials on duty
Kullu, November 26
Five persons, including two women, have been arrested by the police for allegedly attacking a team of Revenue officials at Bhrain village under the Bhuntar police station here yesterday.
One held for uprooting electricity pole
Kullu, November 26
Yadvinder Singh has been arrested by the Bhuntar police for allegedly causing damage to the public property on a complaint by an Assistant Executive Engineer, HPSEB, Nagwain, near here yesterday.
Special kids take part in sports meet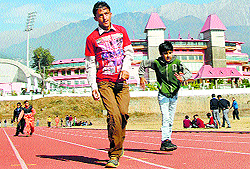 Mandi, November 26
A district-level sports meet for special children was organised by the district Youth Services and Sport Department here today. In the 100-m race, Hira from Sundernagar stood first, while Tanuja and Rachna came second and third, respectively.


Physically challenged children take part in a race during a sports meet in Dharamsala on Tuesday. Photo: Kamaljeet