By Dinesh Rathod
The 60th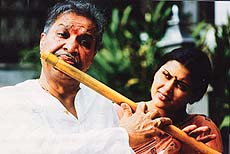 birthday holds special significance to every Indian. It is known as shashtyabdipurti, an event that is celebrated with as much fanfare and hype as one deserves for reaching an important milestone in life.
Pandit Hariprasad Chaurasia turned 60 this year.
So like those before him, including sitarist Ravi Shankar and vocalist Bhimsen Joshi, everybody expected that a public reception would be organised by music lovers and the maestro would perform on stage for a couple of hours.
Little did anybody expect that right from President of India K.R. Narayanan (who sent a "birthday message") to film-makers Yash Chopra and Shyam Benegal, music composer Uttam Singh and vocalists Anoop Jalota, Chhaya Ganguli and Sushilarane Patel, everybody would be celebrating.
Benegal, in fact, has produced a documentary, Hariprasad Chaurasia to felicitate the maestro on the occasion. In it, the flautist speaks evocatively of his formative years in Allahabad where he was born into a family of wrestlers and how his mother hummed folk songs in his ears as she put him to sleep.
Then there is the well-known writer Uma Vasudev who has produced a book, Romancing the Flute, which captures the life and work of Chaurasia. The portions on Mumbai (where Chaurasia lives), particularly the 'Krishna Janma' prayers held every evening at his home, have come as eye-openers.
But the biggest tribute has come from fellow musician and vocalist Pandit Jasraj, who has composed a special number, Jeevet Sharadah Shatam in honour of Chaurasia. It is a soulful invocation of Lord Vishnu wishing his friend that he "lives a one hundred and eight years."
Sarod maestro Amjad Ali Khan has also recorded a special composition in raag Lalitadhwani, wishing "Hari a long life of hariyali (green as tender grass)". Besides, a public felicitation, Bansuri Bandhan was held in Mumbai on July 2, to mark the shashtyabdipurti.
Chaurasia started out on his musical career at the age of 15, when he defied his father into following his footsteps as a grappler and enrolled himself as a student of the renowned vocalist of the time, Pandit Raja from Benares.
In his ashram, he came into contact with Pandit Bholanath, a well-known flautist who had learnt under the legendary Pannalal Ghosh of Bengal. Bholanath had such a profound influence on Chaurasia that before long he gave up singing and picked up the bamboo flute.
By the time he celebrated his 20th birthday, Chaurasia had achieved enough proficiency in flute to be enlisted as a staff artiste with the Cuttack station of All India Radio (AIR) — no small achievement in those days when there were no cassette players and TV.
After five years with Cuttack radio, Chaurasia was transferred to Mumbai by AIR and then began the most significant phase to his career. He came into contact with Annapurna Devi, the illustrious daughter of the great sarod wizard, Ustad Allauddin Khan of the Maihar music school.
Chaurasia quit his job, and as he was to say later in an interview, began to "relearn music at the feet of the great Annapurna Devi". (She is the estranged wife of Pandit Ravi Shankar). Theirs has been a guru-shishya relationship to this day.
"Annapurnaji gave my music a new depth and dimension I have never known I was capable of," Chaurasia was to say. "She was incidentally, a surbahar virtuoso. But her knowledge of flute or any other classical instrument is just as good."
Restarting his career as a concert performer, Chaurasia took the bamboo flute to music festivals in Iran, Germany, France and the USA. Apart from the fan following, he began reaping a harvest of awards, including the prestigious Gaurav Puraskar and the Sangeet Natak award.
But the biggest reward has come in the form of scholarly write-ups by music pundits who have compared his "style and consummate artistry" with that of the late Pannalal Ghosh. His admirers regard him as the "rightful heir to Panna Babu's legacy."
Another significant phase in Chaurasia's career was when he combined with santoor maestro Shiv Kumar Sharma in duets and over the years, they have cut several albums together. At one time, the two composed music from films like Silsila as the Shiv-Hari duo.
All that is in the past though. Today, the maestro lives up to the name of Hari Prasad, or "Blessings of the Lord, " as the greatest living exponent of the bamboo flute, making it almost indispensable in a concert of Indian classical music. (MF)