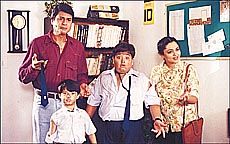 A family
entertainer
all the way
WHAT happens when two totally unconnected households are forced to be a family? When they have to share a house and there is a single mother in one and a single father in the other, each with three children? When there is only one kitchen and one bathroom between them?
The last thing they want to do is to stay together. So they divide the house into two parts with a rope. But this is hardly a solution and things get worse when they discover that the bathroom and kitchen are both on one side. And so begins the madness, with each family trying to outwit the other, scheming and planning, squabbling and tricking, each trying to be one up on the other in a made race to be Family No. 1.
A take-off on David Dhawan's filmi themes, Family No. 1 on Sony is a barrel full of laughs — some situational and some stretched. But with Tanvi Azim heading one family and Kanwaljeet the other, this one is a family entertainer all the way.
Neena's Saans of life
It's a serial which has been quietly ascending the popularity charts. But when Saans was first aired critics panned it as another tear-jerker. That like Neena Gupta's earlier offering, Dard, it would have nothing more than depressing situations and a slow moving story line.
But a year later, Saans on Star Plus is enjoying one of the highest viewership ratings among Hindi serials. Neena Gupta too feels that she has reached the peak of her career graph with this serial. "What takes my breath away with surprise is that viewers are seeing Saans the way I want them to see it, the way I have perceived it. I feel so happy and proud of myself. I think I am at the top of my creativity."
Those watching it would readily agree. Whether it is her direction, script or acting, Neena is doing an excellent job. And as far as creativity goes, she's never been really short of it ever since she emerged from the portals of Delhi's National School of Drama back in the 70s.
Movie mania
It's on. The race to woo Hindi viewers has started in all earnest between Sony Entertainment Television and Star Plus.
With both releasing serials aimed at the entire family, it would seem that they have their targets well-defined get the parents and kids to sit in front of the TV set.
The rating war becomes more pronounced when a Hindi film is aired. But here the ultimate loser is the viewer. Two channels premiering two recent blockbusters on the same day and just one hour or so between them.
Though this happens week after week, viewers were particularly distraught on Saturday September 27, when Star Plus premiered the Shah Rukh Khan-Juhi Chawla starrer Yes Boss and Sony went ahead with Rangeela starring Aamir Khan, Jackie Shroff and Urmila Matondkar.
Both big box office hits but since the times clashed they were forced to make a choice.
So, what's the result of such an aggressive approach? Viewers keep switching channels snatching the best scenes from both. Can any channel hope to benefit from that?
Cutting edge of technology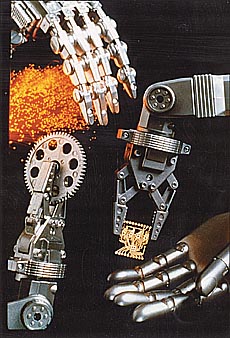 For the scientifically inclined this is a not-to-be-missed show. Robot Rising on Discovery goes beyond the real world of intelligent machines. Featuring Hollywood robot footage from blockbuster films like Terminator, Star Wars and Tales From the Crypt, the show looks at the real-life robots and humanoids and focuses on man's fascination and fear of these.
The show also gives a preview of the most fascinating computerised creatures that have been created in the world. A honda build humanoid is seen crossing a corporate lobby in Japan and even climbing a flight of stairs.
Other robots featured include 'Cog', the star attraction of MIT's artificial intelligence laboratory, who follows motions with his eyes and knows when to walk straight and when to turn. Then there is 'Andro 5' who picks up bombs and drops them in a safe container.
A fabulous show which would have you glued to your TVset from start to finish. Don't miss it.
— Mukesh Khosla