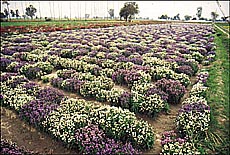 There are many ways of decorating your garden with winter plants, and if you want to have a mass effect, go in for single-flowering beds, writes Satish Narula
Winter plants, flowers need plenty of sun
DO you buy good quality winter annual seeds? You germinate and transplant these according to the book. Yes. Do you get the desirable results? No. Do you get back the worth you had bargained for? No. The reasons? Improper and unplanned allocation and placement.
In fact the winter plants and flowers need plenty of sun. The days are short and the period of illumination limited. High buildings, neighbours' tall-growing trees or the aspect of the house etc are some of the factors responsible for shady areas in a garden. Then, should you drop the idea of growing flowering annuals? No. Even amongst the more light-and-sun- demanding winter plants, there are some that will brave this constraint, to some extent.
For the best results, there are a few considerations, such as colour combination, contrasts, height of the plant, shady, semi-shade or sunny aspects and above all the place of planting — window-sill, a bed near the bedroom or under a window.
There is a wide range of flowering plants for winter. It is advisable to draw up a plan for planting on a paper rather than going straight for planting which you cannot alter later. Some enthusiasts even fill colours in their plans to see the kind of effect they would get later. A wise step. While drawing a plan keep in mind the potential height of the plant too.
Over a period of time the gardeners have become quite conscious of the colour and height concept, and thanks to the various flower seed producing companies, one can get the desired material. There are hybrids too. You can now ask for pink phlox, white petunia, yellow verbena, blue allysum, blue salvia, white aster, yellow, golden white or red marigold and so on. This provides you with an opportunity to select site according to the potential height of the plant, which is mentioned on the wrapper and also a pre-planned colour combination.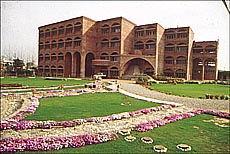 There are many ways of decorating your garden with winter plants. If you want to have a mass effect, go in for single-flowering beds. All white, red, blue or yellow give a good mass effect. For an arrangement of similar colours with various hues, you can plan it by taking the colours on the periphery of the bed and planting progressively darker colours as you move towards the centre. This could be white, creamish yellow, light yellow and finally deep yellow. Similarly, for all red types, the arrangement could be light pink, deep pink, light red, deep red and then crimson.
Now the other way round. If you like to have a contrasting combination, then plan red with green background or next to blue, violet and red to set off yellow. To make things easy for you, for yellow flowering plants select from amongst yellow calaendula, yellow nasturtium, yellow marigold, verbena, allysum etc. For blue there are corn flower, blue larkspur, ageratum anchusa etc. For red linum, salvia, phlox, and dahlia are available. As for height, refer to the wrapper. But go in only for such specifications if you are ready to shell out a little extra. Specific and hybrid seeds cost high but the results are rewarding.
The width of the border should not be less than one to 1.5 metres. For tall, medium and dwarf plants the area allocation should be in the ratio of 6:3:1.
That would mean in a metre-wide bed, the border should be given 10 cm for dwarf types in the front, 30 cm for medium types and 60 cm for tall types at the back. The approximate distance from plant to plant should be 30-40 cm, 15 to 20 cm and 10 to 20 cm for medium and dwarf types, respectively.