Oslo is a big city by Norwegian standards, but its population is less than that of Chandigarh. It is a charming city between high cliffs, says Dinesh Kumar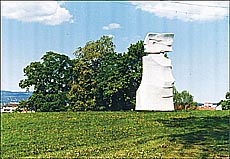 In the capital of the Vikings
LANDING in Fornebu airport at Oslo in the evening gives an insight about life in Norway. The land is rugged and is broken by lakes and streams. The energy from the water is harnessed through thousands of small dams and the electricity is used to make the cold and hostile environment productive. Some buildings seem to have transparent roofs so that you can see the light through it. They are greenhouses, used to grow vegetables. So cold is the weather outside that vegetables must be grown in controlled environment. Looking at the healthy vegetables in stores, one could never guess that they were grown in heated rooms.
Oslo is a big city by Norwegian standards, but its population is less than that of Chandigarh. It is a charming city between high cliffs. Viking ships stand in the harbour and people board them for a drink or snacks and a languorous trip. The main street is the road leading to the King's castle, which bears a festive look on weekends. People enjoy the outdoors and the good summer weather by coming out in large numbers. In two months it will be bitterly cold. There are breathtaking stores and buildings made of aluminium and glass, which is the hallmark of Scandinavian architecture. There is a quiet efficiency in the way the city is run.
I borrow a bicycle for my days in Oslo."That's the way we go around the city," says my host, Nina. "It is much easier and healthy too." She is right. The roads have small lanes specially marked for bikes; trucks and cars stop to let you pass. People do their shopping on bikes. On every street there are iron bars to which the bikes can be tied and locked. The bikes are there everywhere, outside stores and cinemas, on every street, and everyone seems to be using them.
On weekdays the city is like any other European city: cold, efficient, functional. By Friday afternoon everything is calm as things shut down for the weekend. It seems that people have fled from the city and there are a few people on the roads. By 11 p.m., there is almost a complete transformation.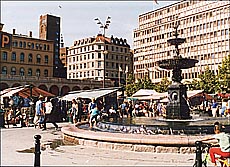 Now, it appears that every one is out on Oslo streets, in their best clothes. The streets become crowded and cafes do brisk business. It is not dark, because in summer Oslo gets night only for about two hours. The twilight gives the impression that it is not very late. Young musicians are out on the streets, playing to small crowds. In a park, African drummers set up a beat and it is hard for people not to dance. The road to the King's castle is crowded with people at pavement cafes, enjoying themselves. At the city square, one can take a bungee jump from a crane and people line up to get the experience of a lifetime.
At the harbour, all the boats are crowded as well. Some are modern ships while others have been made to resemble ships of the bygone Viking era. All have been converted into open-air restaurants and it is difficult to find a table. The weekend spirit is infectious as a live band plays on one of the ships.
It is back to normal on Monday. People are back to work. The University of Oslo is a beautiful place which houses several museums. In one of them a life-size skeleton of a dinosaur attracts many exclamations. The university botanical garden has flowers and plants which are amazingly beautiful. Near it is the famous Munch museum housing the famous painting "The Scream," which has been interpreted in many ways. It is warm, and people are out sun-bathing. Many flock the swimming pools.
One thing common among Norwegians is their love for the outdoors. One can see cars whizzing past with canoes or bicycles secured on their roofs as people go to the woods or the sea.
There is much to do. I cycle to places around Oslo and find people out in great numbers. They take fruit and drinks in their rucksacks and can be seen canoeing or hang-gliding. This summer the fashion is to look like the Spice Girls and young girls go around with pigtails and pouts.
I visit the Asian part of the city, where immigrants live. With clothes and other wares displayed on pavements, it seems that one is back in Chandni Chowk. Pakistani stores sell halal meat. Indian movies and videos are displayed in every alternate shop. Even the smells are the same as in India, as Asian food is available in plenty. Occasionally one hears Hindi being spoken in shops and one is reassured in a strange way.
Oslo is a city that thrives on the weather. Everyone talks about it, because many outdoor plans are dependent on it. Fortunately, my stay has some sunny days and it is possible to witness the city at its best.
My students are very interested in India and cannot believe that I live in a "small city" that is bigger than Oslo. They also find it hard to believe it when I tell them that back home, the temperature would be around 40 degrees.