This column was published on October 11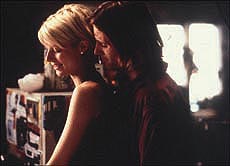 The Perfect Murder that is watchable
By Ervell E. Menezes
ABOUT a decade ago you would have been stunned to hear they were going to remake Psycho. You'd think old Alfred Hitchcock would be turning in his grave. Not today. Nothing is sacrosanct, in Hollywood or elsewhere. Just for the record Good Will Hunting director Gus Van Sant will direct it, Vince Vaughn will play Norman Bates, the part that made Anthony Perkins almost legendary, and the up-and-coming Anne Heche does the part played by Janet Leigh.
And speaking of Hitchcock, that master of the macabre, his Dial M For Murder has also been remade as The Perfect Murder. Remember the famous key sequence in Dial M where Ray Milland is the husband and Robert Cummings the ageing tennis player and lover of the wife (Grace Kelly).
Now, without trying to compare the two films The Perfect Murder has enough in it to make it an exciting whodunit.
With director Andrew Davis of The Fugitive fame doing the honours, it is not surprising indeed.
The screenplay by Patrick Kelly Smith is also tautly written and of course the love triangle is made up of competent performers. Michael Douglas is a proven talent and Gwyneth Paltrow outdoes herself in Great Expectations which (I've already said) is not my cup of tea. As for Viggo Mortensen he's a comparative newcomer but a talented one.
Millionaire Steven Taylor (Michael Douglas) is a man who has everything but what he craves most — the love and fidelity of his wife.
A hugely successful entity in the high-stakes New York financial world, Taylor proudly considers Emily Taylor (Gwyneth Paltrow) his most treasured acquisition. But Emily wants and needs more than just her role as a dazzling accessory in her husband's world. Don't women have their very own personalities? And talents. Emily works as a multi-lingual translator and aide to the US Ambassador to the United Nations. And tired of being her husband's accessory she drifts into a flesh-and-blood relationship with a talented, but struggling, artist David Shaw (Viggo Mortensen).
Director Andrew Davis zeroes in quickly on the three main characters. The establishing shots are quick and effective.
Steve knows at once that his wife is having an affair with this artist. So he meets him in his Brooklyn loft and immediately gets to the point "Lay off my wife", he says first. But even more curious, he makes him an offer to kill her. Is this plausible? Well, it is part of the plot, and so has to be accepted.
Quite often credibility is the first casualty in intricate plots. But it is how the three principal characters react to the proposition that forms the meat of the film.
That Andrew Davis has updated the story is understandable. Steven Taylor is at a game of bridge when the murder plan is to be executed. What's more, he has the gall to listen to it over his mobile phone during a break in the game. But as we know by now, even the most perfect plans are likely to go awry. There is that human element or something accidental that has not been taken into account.
In a way, The Perfect Murder is Fatal Attraction in reverse. In that 1980s thriller Michael Douglas was the one who was two-timing on his wife. In The Perfect Murder it is the wife who's two-timing.
Why not? With Women's Liberation everything has become equal. Didn't Kristen Scott Thomas tell Hugl Grant in Polanski's Bitter Moon that "anything you can do, I can do better." Gwyneth Paltrow shows that she has matured as an actress by handling this rather unlikely situation. First, she has to find out the part of the would-be murderer. Then she has to examine the role of the two men in her life — husband and her lover.
It's not an easy part to play but Paltrow gives a very credible performance. In a way she could qualify for a female Bond but even her emotional sequences are sensitively achieved.
Michael Douglas, looking battered and worn out with his overtime work in films, is adequate enough and Viggo Mortenen bolds out promise for the future. Oh yes, I almost forgot, our own Sarita Chaudhrey is there in a cameo as a close friend of the heroine. All things considered, The Perfect Murder is a good entertainer. It may not be perfect, but it is eminently watchable.