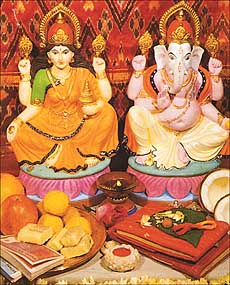 With devotion for Lakshmi
by Preeti Bhutani
DIVALI, the glorious festival of lamps, is the day when Lakshmi, the goddess of wealth, is worshipped so that she may bestow on her devotees prosperity, abundant crops and good fortune in the coming year.
On this day, merchants and traders worship their account books as it is their belief that wealth arises due to goddess Lakshmi's blessings alone.
Shri-Sukta in Vedic literature, which is a part of an appendix to Rigveda, depicts goddess Lakshmi as moist and fertile, perceptible through odour and abundant in harvest. She is associated with growth and fecundity of rich soil.
Her association with agricultural fertility becomes clear during the time of Divali. During this time the farmers are ready to harvest the crops, so they invoke the blessings of both Lakshmi, the goddess of bounty and fertility, and Bali, the spirit of vegetation. In South India and Orissa, cowdung is worshipped because goddess Lakshmi has been known to reside in cowdung.
In earlier Vedic texts the goddess appears as Sri, which suggests beauty, glory and ruling power of kings.
Her idols are rare but pictures are found in almost all Indian homes. She is radiant like gold and illustrious like the moon, has long lustrous hair and from her palms streams of gold coins fall into water at her feet. She is seated on the lotus which itself is a symbol of fertility and the entire cosmic creation. Secondly, it is a symbol of purity and spiritual perfection. Thus Lakshmi combines both royal and spiritual powers in her presence.
On Divali day new silver coins and gold jewellery are worshipped as Lakshmi. Divali puja ceremony includes anointing the puja room with the images of tiny feet like inverted commas with a silver coin in between. These are goddess Lakshmi's auspicious footprints which always lead inside towards the storeroom, towards the trunks and boxes where the family's wealth is stored.
Goddess Lakshmi did not arise out of a parent but rose out during the churning of milk ocean by the gods and demons seeking the elixir of mortality (amrit).
In later Hindu texts, goddess Lakshmi is associated with many male deities like Bali, Soma, Dharma, Indra. She is Chanchala, the restless one, and co-habits with only those who are blessed with good fortune and promote her further. In fact her reputation of fickleness changed only when she got married to the powerful god Vishnu.
Indian women are constantly looked upon as Ghar ki Lakshmi, which implies that the women must have the qualities of a model Hindu wife, passive, submissive, obedient and static. But the true Lakshmi is anything but this. From the creator of resources and the ever mobile one, she is transformed slowly into an obedient wife who is the model of righteous conduct and correct social observance. Her submissive position becomes clear in Badami paintings where she sits on the ground but her lord reclines on a high stool.
In Panchatantra school lord Vishnu delegates the central role of creation of the universe to Lakshmi and goes to sleep. Lakshmi becomes the Shakti of Vishnu — the dispenser of grace and bestower of liberation of souls. Although in Vaishnava school Lakshmi does not play the central cosmological role, she acts as mediating presence between the devotee and lord Vishnu. She also resorts to distracting lord Vishnu from his intention of punishing a devotee by enticing him with her beauty.
She may thus embody divine compassion but also acts as a jealous wife when lord Vishnu goes off with another consort, and she in anger breaks his vehicle and locks him out of their home.
Goddess Lakshmi stays with only those who can retain her. She, the goddess of wealth and fertility, has no children and, therefore, does not look favourably at inheritance of wealth.
On Divali day, goddess Lakshmi is worshipped with Kubera, the lord of Yakshas, who is the possessor and guardian of earth's treasures. After performing the worship of goddess Lakshmi, the expulsion of Akashmi, the female spirit associated with bad luck and poverty, is done by lighting lamps and beating winnowing baskets, pans and drums.
In North India images of Ganesha and Lakshmi are revered during Divali puja. The associating of Lakshmi and elephant headed Ganesha is continuation of Gaja-Lakshmi images where white elephants shower her with water. Ganesha is also a Yaksha type of figure associated with wealth, good luck and new beginnings.
During this time the ghosts of the dead return. Bali, a demon, comes out from the underworld for three days. People illuminate their houses with the belief that the lighting of lamps would make Lakshmi stable in their homes. Profligate spending and boisterous gambling are advised because those who indulge in it please goddess Lakshmi.
She imbues creatures with lustre and well-being and, therefore, who can be the presiding deity of this festival of lights, but Sri Lakshmi?