Dayanand claimed no infallibility, propounding timeless truths, that stay valid for all time. When founding the Arya Samaj at Mumbai (Bombay then) on April 18, 1875, he declared; "I am no know-all. If you discover any error (in my system), you may correct it with reason and argument", writes P. D. Shastri

The prophet with a difference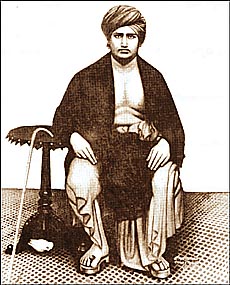 SWAMI DAYANAND, the founder of Arya Samaj, was a prophet with a difference. In other cases, the prophet's word is gospel and must be accepted in toto, else the deviationist is a heretic, risking persecution, even death. Swami Dayanand knew that in the new ages, the velocity of history would be past imagination and changed world conditions render many of the original concepts and even fundamentals outdated by the swift march of time. For instance, a Christian feels embarrassed when confronted with the Commandment: "Thou shall suffer not a witch to live"(thousands were burnt alive), in which no one believes today. Or the world was created in 4002 B.C., or the sun and planets move round our all important earth ... for denying which Copernicus, Bruno and Galileo suffered imprisonment and death.
Dayanand claimed no infallibility, propounding timeless truths, that stay valid for all time (nothing does, neither religious edicts nor even the propositions of Marx). When founding the Arya Samaj at Mumbai (Bombay then) on April 18, 1875, he declared; "I am no know-all. If you discover any error (in my system), you may correct it with reason and argument". The fundamentals stay intact. The body stays the same, but garments can (must) be changed, according to the change of climate — political, religious, social and scientific.
We see it in practice. He was strictly against co-education (he wanted boys' and girls' institutions to be miles apart), and he was all for Hindi (not for the Britisher's language English). Today the DAV movement recently opened 500 new model schools — all co-educational and English-medium. This is not breaking Dayanand's 'commandment'. Rather, it means following his ideology in spirit, rather than letter. And other deviations.
He did not even claim to be all important, or life president. In the list of 100 original members, his name is listed at No 21, according to the alphabetical order. Still he remained all in all for all time. As says Gita, anyone who is an extraordinary person or exhibits unprecedented personality or talent is a bright manifestation of God.
Today there are the Arya Samaj mandirs in all towns and some villages too. The temples are also found in countries of Asia and Africa. America and Europe. Its educational wing, DAV schools, colleges and technical institutions (the greatest private enterprise in India), are spread all over Bharat and even the West. Here is a DAV College in New York. The DAV (Dayanand Anglo Vedic) has evolved a new connotation of its own — for its top honours in academics and sports and other activities and for excellence and character formations of its lakhs and lakhs of students (this was true till yesterday; the present is the age of decline in most fields).
Two movements changed the face of Europe and revolutionised its culture that then conquered the world — Renaissance (that revived the long lost treasures of Greek and Latin literature) and Reformation. In India Dayanand is the father of both Renaissance (he brought to life world's supreme knowledge, the Vedas, with his slogan 'Back to Vedas) and Reformation ( he sought to rid Hinduism of its massive superstitious practices and challenged the authority of the priesthood).
Romain Rolland called Dayanand the Martin Luther (founder of Protestantism) in India. Dr Radhakrishnan called Arya Samaj the Protestant church of India. Dr Annie Besant, the English lady who fought for India's Independence and even became president of the Congress (for one year), says; "When the Swaraj temple is built, there will be images of all the leaders of the freedom movement and that of Swami Dayanand will be the tallest".
Sir Syed Ahmad, founder of AMU, says: "Dayanand is such a great man as has no equal in India".
Dayanand's work included launching the khadi movement, abolishing untouchability, emancipation of women (he started bringing women out of purdah to attend Arya Samaj functions) making Hindi as a national language, working for cow protection, uplifting rural and poor backward classes and so on. His movement made some dent. Later Mahatma Gandhi made all these programmes planks of his freedom movement. What Dayanand had sowed, Gandhiji reaped with unique success. Gandhiji is called the Father of the Nation and the Congress called him the grandfather of the nation.
He created a psychological revolution and gave tremendous self-confidence to Hindudom. The British rulers sought to consolidate their rule by instilling inferiority complex among the then 90 per cent majority community. The British called Indians "most backward, barbaric, without the gift of scientific inventions and discoveries, the worst and most pitiable creatures, to whom we brought the light of learning, blessings of science and modernism" Dayanand thundered: 'Our Vedas are the earliest books, Hinduism is the most ancient of all the religions that have survived".
Before the birth of Christ, there was not a single Christian in the world. Before the birth of Prophet Mohammad, there was not a single Muslim. By wholesale conversions Europe and America have gone Christian. Similarly, all 52 Islamic nations came into existence bit by bit during the last 1400 years. They wanted to practise this formula in India.
All people have their quota of conservatism and superstitions, and India is supposed to be more conservative and more superstitious than the rest. He declared a war on both. He debunked astrology and called Janma Patra as Shok Patra (document of sorrow),. Marriages were (and some even today are) arranged by matching horoscopes. He called it nonsense. Saturday was considered inauspicious . To disprove it, he founded the Arya Samaj on a Saturday (later its meetings were changed to Sunday).He began his momentous commentary on the Vedas on a Saturday.