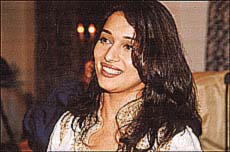 An intuitive actress
By Lakshmi Menon
IT has been quite a while since Madhuri Dixit pulled off a hit. Her last was Yash Chopra's Dil To Pagal Hai, a joint effort with two other superstars, Shahrukh Khan and Karishma Kapoor. And yet, she is reckoned as the brightest star on the Bollywood firmament.
Today, the only meaningful film she is doing is Gaja Gamimi, being directed by painter-film maker M.F. Husain. The latter had reportedly seen her Hum Aapke Hain Kaun about 100 times to be inspired to launch a film with Madhuri.
Other film makers who have approached her are being put off on one pretext or the other. Besides, it is rumoured that no Bollywood hero is prepared to share the credits with Madhuri. For such is her stature, she would overshadow them in every frame.
"She is definitely the best we have now," observed her mentor, Subhash Ghai. "I would be absolutely shattered if she loses the opportunity to grow into one of the all-time greats. With her talent and age on her side, she has really nothing to fear."
Industry pundits point out two reasons for Madhuri exercising "extreme caution" at signing new films. The first is the obvious absence of good film makers and scriptwriters who could extract the best out of her, a fact she has repeatedly stressed in countless interviews.
The second reason being cited is that competition has intensified, ever since Sridevi went into semiretirement and matrimony for a year now. Manisha Koirala, Karishma Kapoor and Kajol have come up since and are considered top contenders for that slot.
"Madhuri would not like to destroy her track record by doing a silly film which would give her adversaries an unfair advantage over her," explained Sudarshan Rattan, the film maker who launched her with Abodh 12 years ago.
"Don't forget she has not produced a single flop in recent years. Even films like Yaarana and Mohabbat, which the trade described as duds, eventually did manage to recover their costs. Little wonder, she is the highest paid artiste in Bombay."
Advises Balakrishna Shroff, a well known distributor: "It is time Madhuri should concentrate on art films like Mrityudand, she did for Prakash Jha. It was a beautiful film which raked in the money, even as there was no hero in it. People saw the film because of Madhuri Dixit."
Leading art house film makers like Shyam Benegal and Govind Nihalani have toyed with the idea of casting her in their films, but gave up when they realised she was unaffordable. Her current market rate is quoted at a whopping Rs 20 million per film!
"She has the right to charge that much," argues Telugu film maker K.Vishwanath, who had cast her in Sangeet. She is an intuitive actress who knows exactly what her director wants and what the audience expects. Even if she charges 100 million, I think it would be worth it."
Agrees N. Chandra, director of Tezaab; "Nobody should grudge how much she charges. I hit gold the day she did the ek do teen number for my film. She is an ek do se sau tak actress. She always delivers beyond your expectations!"
Chopra however, feels that the challenge for Madhuri has begun only now: "There is no doubt she is a fantastic actress. But she has to rise up to be regarded as world class. She has the potential and must take up new challenges, not run away from them".
There is yet another factor which everybody is aware of but not prepared to talk about: what if her parents are wanting to get her married off? Madhuri is in her 30s now and being a conservative Maharashtrian, she could well go for it.
In that case, it would be curtains to her career. — (MF)