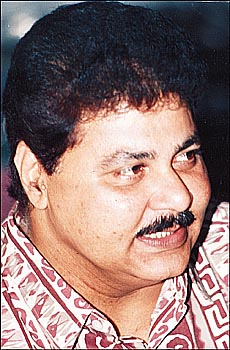 Mr Clown all the way
By A. L. Chougule
COMEDIAN par excellence, Satish Shah earns his money by making people laugh. Ever since his debut on television 13 years ago in Yeh Jo Hai Zindagi, he has been doing precisely that. An extremely choosy actor, for him it is quality and not quantity that matters more. That's why while his contemporaries have done more than 40 serials in 13 years, Satish has done just eight serials during the same period. By choice, he likes to do not more than two serials in a year. Obviously, three is a crowd for Satish who is currently doing two serials — All The Best (DD Metro) and Ghar Jamai (Zee).
When you meet Satish Shah on the sets of Ghar Jamai, he tells you that he is a very satisfied actor. "I am not an ambitious actor," he observes, adding "I don't have to prove anything to anyone. I have played 65 characters in 52 episodes of Yeh Jo Hai Zindagi which is a record. So what more is expected of me? What gives a high and what keeps me going is the fact that the audience loves to watch me on screen and I love to make them laugh".
Satish is indeed a meticulous actor. Since he does two serials and five films in a year, the month is divided equally for television and cinema — two weeks for each of them. The reason for doing very little television is that he doesn't like to overexpose himself on television.
Another reason for doing very little television is that he doesn't like to run from one set to another as other actors do. He explains, "When I accept a serial I get totally involved in it. I like to be a part of the team instead of just doing my scenes and sitting in the make-up room. When I am not doing my scene, I am there on the set, helping my co-actors and giving suggestions to improve the end result".
He feels a good serial is a result of good team work. "A good serial happens, it is not planned," he elaborates further. "And no individual can take credit for the success of a serial". Probably Satish is being modest because whichever serial he does, he carries it on his shoulders.
Finding him in a good mood to talk, you carry on the conversation and make him talk about Ghar Jamai which, in its second edition, is being telecast on Zee TV. The first edition was telecast on Doordarshan 13 years ago in which Satish played a Punjabi father-in-law in a hilarious conflict with his South Indian son-in-law. Interestingly Satish is the only actor who stays from the original cast and in the same role. And in a strange twist of tele-fate, Anant Mahadevan who played the South Indian son-in-law in the earlier edition, is now directing the serial.
Surprisingly, Satish likes the present version much better than the original. "In the original version, there were certain things I wasn't happy about," he remembers. But he is enjoying every moment of doing the present Ghar Jamai because, he says, not only is he reliving the old experience but scriptwise it is much better. "Besides we have a good team and the casting is refreshing and perfect," he adds. "I am glad that Anant revived it". But how does he find Anant as director? "He is good and hardworking," says Satish.
Called television's Mr Clown is he happy with his image of a comedian? Doesn't he want to change tracks and turn to serious roles? "Why should I?" he asks. "The audience loves me for the image I have and as long as they accept me I don't see the need for a change of image. I love making people laugh".
Satish Shah is not happy with the way comedy is shaping up on Indian television. "It's too loud and routine," he regrets. "There is no freshness. That's why the comedies and sitcoms have laugh tracks inserted almost anywhere. Real comedy is all about punch lines and timing". However, he concedes that comedy on the small screen is much better than on the big screen. "It is clean and free of sexual overtones, mimicry and buffoonery".
How does he find Ghar Jamai in comparison with other comedies on air? "It is the best," he gushes. "It is subtle, gentle, rich, sensible and sophisticated. There is no overacting, the humour comes out of the situations. We don't follow the script like the Holy scripture as others do. We change it, improvise it. That's why the end result is so good".
When it comes to accepting serial offers, Satish is very choosy. But when it comes to doing films, he does even B and C grade films. He is even seen in horror films. "I have done those B and C-grade films because the roles were more satisfying than some of the A-grade films I have done," he justifies. It is another matter that the film didn't do well.
I have also enjoyed tremendously working in Ramsay's horror films".
Even after decades of emoting before the camera, Satish feels he is still improving as an actor. Though he doesn't have to prove anything to anyone, he says he has not reached saturation point yet. "There is still a lot of acting left in me," he says. So Mr Clown will keep tickling your funny rib for a long time..