Fascinating birds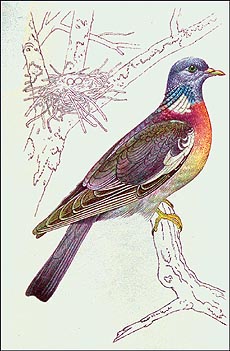 By Nutan Shukla
PIGEONS have a very acute sense of hearing and can detect very weak infrasonic sounds (very low frequency rumbling sounds) down to less than 1 Hertz (Hz). While an average human can hear sounds between 20 Hz and 20,000 Hz, we are specially sensitive to sounds at around 2,000 Hz. In other words, pigeons' hearing enables them to detect vibrations from meteorological disturbances or movements in the earth's crust thousands of miles away. This quality may be used in navigation.
Homing pigeons are fascinating birds. They are known for performing remarkable feats of endurance. One such example, which perhaps is the most outstanding one, was the first Duke of Wellington's homing pigeon, which is said to have flown a direct route of 8,700 km, but the fact is that it flew about 11,255 km to avoid the Sahara Desert. This bird was released on April 8, 1845, from a sailing ship of the Ichabo Islands, West Africa, and dropped dead 55 days later on June 1 — only a mile from its loft at Nine Elms, Wandsworth, London. There are other instances also. A homing pigeon flew 1,887 km in 15 days into Britain, while others have journeyed over 1,600 km on four occasions.
During World War II the British Army had on its muster-roll more than 200,000 homing pigeons for sending messages. The Police Depart-ment of Orissa still has about 800 birds which are used to run the department's unique pigeon service which is over half-a-century old. This service came into operation in 1946 when the Orissa police, due to lack of communication facilities, purchased a few trained carriers from the Army at the end of World War II. The service won accolades from Prime Minister Jawaharlal Nehru who, on a visit to inaugurate the Hirakund dam in 1948, found the service quite useful.
Before proceeding to the dam site, Nehru sent a message on April 13, 1948, to the state that "the arrangements for the public meeting should not be such as to separate the speaker too much from the audience". The message reached Cuttack in less than five-and-a half hours. It, however, took Nehru six hours to reach the city. He was surprised when told that his message brought by a pigeon had reached before he reached the city.
In the past five decades, these pigeons have proved invaluable, especially during floods and cyclones. In the 1982 floods in Banki, these birds were the only mode of communication after the wireless service was disrupted.
The word 'homing' means return by an animal to a particular site that is used for breeding or sleeping. The term may apply to the return of an animal to its nest after foraging, or to a seasonal migration between breeding and feeding grounds.
There are 36 species of Imperial pigeons which are found in South Asia, the Philippines, Indonesia, Australia and some Pacific Ocean islands. Classified under genus Ducula, these birds feed on fruits and leaves and nest in trees.
One species of this bird can stretch the base of its bill so much that it can gorge on whole nutmeg fruit of 5.5 cm diameter, in other words larger than its own head.
Fruit pigeons usually do not regurgitate large stones, like most birds do, after eating fruits. Instead, they are capable of passing seeds of 3 cm diameter through their intestines.
As has been already said above that pigeons have numerous varieties. Among these pink pigeon is the rarest. It is estimated that there are less than 20 pink pigeons today. In 1950s there were about 55. The reason for the decline in their numbers are many. Habitat destruction and high predation on their eggs are the main reasons which have put this bird on the list of highly endangered species.
Another group of pigeons is that of racing pigeons which are known for their astonishing flight speed. The highest race speed recorded of a racing pigeon was 117.14 km/h (on average). This feat was performed by a bird in the East Anglian Federation race from East Croydon on May 8, 1965. This speed was possible due to the favourable winds. Experts feel that in level flight and in calm conditions even the champion bird cannot cross the speed of 95 km/h or so. Even if this is correct, it is not a small thing.
Fanciers have special attraction for racing pigeons. For this reason the highest price ever paid for any bird was £ 41,000 for a racing pigeon named Peter Pau in 1986. The amount paid was equal to 10 times its weight in gold. The buyer was Louis Massarella, of Leicestershire, England, who owns the biggest racing pigeon complex in the world. This bird could fly distances of over 620 miles, reaching the average speed of about 80 km/h. It was purchased for the purpose of breeding. The previous record price for racing pigeon was £ 25,000 paid by a Taiwanese fancier.
Racing pigeons are one of the most numerous birds in the world which are used for sporting purpose like racing. According to an estimate, about 1.20 crore (12 million) birds are registered worldwide every year and a world population is estimated at 5 to 5.5 crores (50 to 55 million). In the late 1980s the International Pigeon Racing Federation had about 650,000 affiliated members with an average of 40 birds per loft, giving a total of 2.60 crore (26 million) birds, which is possibly half of the total world population.