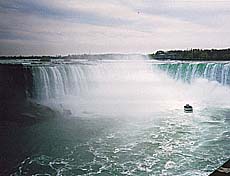 Toronto: A home away from home
By P.P.S. Gill
WHOSOEVER said the world is a "global village" could not have found a better expression; at least no one has come up with an improvement on that one.
Why I say so is simple. One comes across people whom one knows at oddest of places and when least expected. My first encounter was with a woman IAS officer — Mrs Sushil Gupta — of Punjab in Washington. She had forgotten. I had not, because I had interviewed her once. The second encounter was with a professor of mine, who taught us "extension education" at Punjab Agricultural University, Ludhiana, in the early 70s. I ran into him after decades at a marriage of a Punjabi boy — Darsh Paul — now settled in Washington working as an assistant attorney.
My university teacher, Dr Anoop Singh Sandhu and his family are now in Burlington, Toronto, Canada. I learnt the family was returning home by road. The offer to accompany them was too good to refuse. So one fine morning we all began our drive 888 miles to Toronto. The journey was made in about nine hours.
How time flies, we never realised, having ourselves travelled through the corridor of time to those university days which we recalled with nostalgia. It was during the journey through beautiful landscape, farms, small towns and past industrial townships, including Buffalo, that I learnt how Punjabis or for that matter Indians "feel" while being away from home.
The suburbs of Toronto are peopled with Punjabis. The place has nearly 29-odd gurdwaras. The old "Khalistani" fervour is lost but not entirely forgotten, as I was to discover later during my week-long stay in Missisuaga, when I found "Khalistan" banners put up inside a gurdwara where we had gone for prayers and langar.
It was during the drive that I had the occasion to relish the famous McDonald burger and the strawberry milkshake. At each place one has to help himself, both in collecting the eatables and then disposing the plates into the dustbin. Even at gas stations the driver himself operates the pump either by paying cash or through credit card. I discovered that the wallets of both men and women are stuffed with cards of all sizes and used for multipurpose facilities, including entry into buildings by running the card through a slit in a small gadget, which clicks the doors open.
The motorway of the highways are well kept, smooth and one rarely comes across any intersections. As we drove Anu had switched on a small gadget which would tell him, occasionally, the speedcheck ahead or of a police patrol nearby. He would slow down only to step on the gas again. Once again I slipped back to the similar driving experience I had had in Pakistan when I had accompanied Prime Minister Nawaz Sharif from Islamabad to Lahore. That was the first motorway the country had built. India had none, so far. But here all highways have the same engineering technology with flyovers and under bridges and U-turns and twists. In fact a driver should either know which highway to follow or be accompanied by a good "navigator".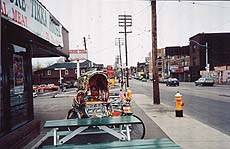 The entry into Canada across the "peace bridge" was the quickest and smoothest I had been through. Not that one was inconvenienced at JFK. By watch it took barely four minutes to get the passport stamped. The QED — Queen Elizabeth Drive — seemed to be an extension of the US highways. It had been named after her because she once drove on it to go to the USA.
The drive to Toronto is close to the Niagara Falls and alongside Lake Ontario. It was past six o' clock in the evening. "You want to hear something?" The question brought me back to the present. At this Dr Sandhu asked his son to switch on the car radio. After a Hindi movie song had ended came a resounding voice in chaste Punjabi: Eh Akashwani Jalandhar Hai. Hun Tusin Tirath Singh Dhillon Kolon Pradeshisk Khabran sunon". The news transported me momentarily to Punjab's Jalandhar station of the AIR.
I learnt later that this was a daily ritual; a way Punjabis stayed tuned-in to their roots. Several people I met wanted The Tribune website address and the E-mail address. "We miss the paper. We read several others but the appetite for home news remains permanent". The residents there would now be happy since The Tribune Internet is very much on the circuit since July 5 The Internet surfers could get home news.
Unlike in the USA, one is not deprived much of India news here. Besides local papers even Toronto Star and other papers carry news from India. Even local activities of Indians get reported. But during my stay the papers were full of Canadian Prime Minister's visit to Cuba and US objections. Three human interest stories dominated the papers — one related to geese and the other to bears.
The third one was on one Ranjit Singh's harrowing experience with the Canadian Security Intelli-gence Service agency, which wanted Ranjit Singh to become a spy for it on Sikhs and Sri Lankans. The news was how the CSIS had "illtreated" him. He happened to be the second refugee to make that allegation.
The visit to the Niagara Falls and Skylon there and going up the famous CN tower in Toronto are part of one's itinerary to Canada's Ontario province. An Indian family from near Moga, of Darshan Basran, played host. Basran is a senior project engineer with the Greater Toronto Airport Authority. He explained to me the hard facts of living abroad. Going by comforts, conveniences and facilities which lessen the drudgery of household chores, the place is best. Otherwise there is a creeping feeling of loneliness and isolation.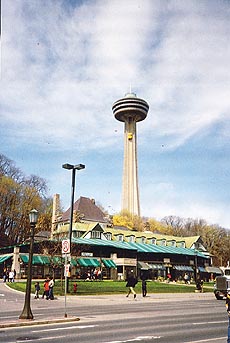 As to the human interest stories, here are those which caught my fancy: geese pose a problem. Even in mid-April it was cold. The sky remained almost overcast and it rained for most of the week I was there. The annual campaign for "oiling" geese eggs had begun. Mineral oil is rubbed to stop eggs from hatching. This prevented unwanted births on the waterfront. In three years, the government spent nearly $ 440,000 on oiling of eggs and planting a special grass which geese find distasteful. It is estimated there are over 250,000 geese in Ontario alone. The figure doubles each three to five years; notwithstanding all efforts.
Here are some "bear" facts: Each year nearly 250-odd bear cubs become orphans. This is always in spring. Winter had been mild in the spring. The "animal alliance of Canada" wanted hunting banned or at least prohibited. Of nearly 7,000 bears killed each year in Ontario, 4,400 were killed in spring. Nearly 30 per cent were females.
The hunt continues till June. Then "fall" bear hunt starts, lasting till the end of November having begun in mid-September.
If travel is education one gets a loadful of that on such trips when one absorbs the enormity of man's march into the future with the aid of science and by his hard work. Despite all this, man looks for familiar places to "feel at home".
Toronto downtown has it in the form of an "Indian street", where one feels as if one is walking through Amritsar's, Hall Bazar or Lahore's Anarkali Bazar. A Pakistani has kept a rickshaw for "joy rides" on Indian street.