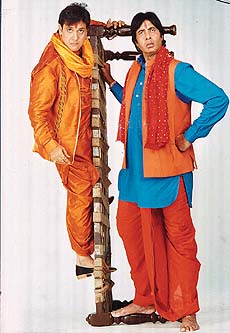 Will they laugh all the way
to the box office?
By Madhur Mittal
AFTER a long time, the Mumbai film fraternity is undeniably upbeat about the "sure success" of a lavishly mounted new movie, Bade Miyan Chhote Miyan directed by David Dhawan for producers Vashu Bhagnani and Sheetal Jain. As we all know only too well, in this movie Dhawan brings together Amitabh Bachchan and Govinda for the first time. He has pulled out all the stops to make a belly-clutching comedy.
The movie promises to be a riot in more ways than one! Thanks predominantly to the script penned by Rumi Jaffery... giving the lead actors the chance of a lifetime to clown around. Because, the best "part" is that both Amitabh and Govinda have double roles! While one duo comprises goofy cops, Arjun Singh and Pyare Mohan, the other look-alike duo are country bumpkins. Either pair is unaware of the existence of the other!
What do you think happens when the latter show up in the city to be (naturally) mistaken for the former, huh? Simple. Total chaos, total bedlam and total entertainment! Raveena Tandon, Ramya, Anupam Kher, Paresh Rawal and Divya Dutta chip in to add to the fun.
Looks as if the big B is going to be third time lucky.
Maternal Manisha
When it comes to this Nepalese nymph, nothing seems impossible. And she has proved it once more by her presence at the celebrations of "The Year of Safe Motherhood" organised by the WHO (World Health Organisation) in Delhi.
Film folks who were present, returned to Mumbai smirking. They simply couldn't get over the fact that Koirala, famous for her self-styled bohemian behaviour off-screen, chose to mouth grandiose dialogues when asked "to say a few words on safe motherhood".
To quote the actress: "It's shocking that India has such a titanic and tragic rate of maternal mortality. I want to create an awareness about this most emphatically — both amongst women as well as men.
Yes, the men must share the responsibility of ensuring the safety to their wives during delivery. They also must take care of their nutrition and health afterwards. I am a socially aware person, committed to the causes of mothers not merely in India, but the world over."..... Kuchh ziada ho gaya. No?



Vanishing act
When Aar Ya Paar was released, the Bollywood trade pundits had predicted "a great career" for debutante heroine — Kamal Sidhu (of STAR TV fame). And, why not? She looked terrific in the film.
All the eager-beaver filmmakers who trooped to her Colaba hotel (with briefcases filled with crisp currency) to sign her on, only found that she had checked out without even leaving a forwarding address! Later they discovered she had married co-anchor Danny McGill and done the disappearing act.
Some folks say they've seen her hosting a chat show on some phoren satellite channel. In that case, why is Kamaal Kamal slinking from her very own, desi motherland?