Evoking that sweet scent of nostalgia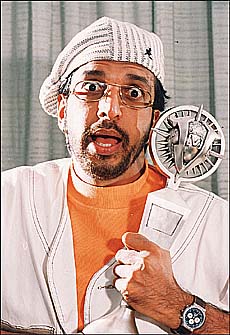 HE'S back. And back with a bang. A few years ago when he started anchoring Videocon Flashback on Channel V, it became one of the most popular shows on television. Few could have imagined that a show on the golden oldies of Hindi films would even attract city-bred hip-swinging youngsters.
But then the idea ran out its time and the popularity of the show declined until it virtually came to the point of being shut down. The viewership dropped to danger levels and Jaaved's popularity began plummeting.
But look, how the fast-talking Jaaved has bounced back and given a fresh lease of life to the show. In the all new Videocon Flashback Jaaved is funnier and bolder and talks about the making of epics. All the interesting little behind-the-scenes details of things we never new about films we grew up with.
For whoever knew that when Dilip Kumar refused the role of Birju in Mother India, the dejected Mehboob Khan started looking for a newcomer and he discovered Sunil Dutt. In another show there interesting were vignettes of Sholay and how Ramesh Sippy chose the cast.
From here onwards Jaaved goes behind the scenes of films like Mughal-e-Azam, Madhumati, Deewar, Padosan and other blockbusters of Indian cinema.
So, if you are a nostalgic oldie or a young fan of the golden moments of Hindi films, go into this absorbing time-wrap every Thursday for a 45-minute, laugh-a-riot, sing-along musical journey into the films of yesteryears.
Reviving love for the ghazal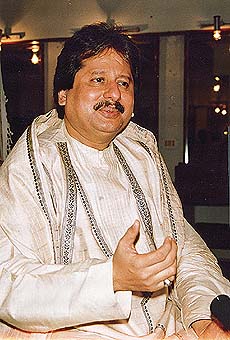 Finally, an extremely entertaining singing competition. No, not another antaakshari or a mishmash of all types of songs. This show features the ghazal — a blend of music, poetry, and singing.
Aadaab Arz Hai, every Monday on Sony, is hosted Pankaj Udhas and Rakshanda Khan. Says Udhas, "I am so happy to be a part of the show. It's right up my line." The countdown incorporates innovative rounds of musical competition and an appreciative live audience enjoying some of the best film and non-film ghazals.
But wait, there's more! In each episode, the four competing participants are judged by a celebrity from the fields of music, film, poetry, literature, and there is one winner. There are questions for the live audience, plus a ghazal quiz for viewers.
Apart from the weekly prizes on the show, there will be a bumper prize for the ultimate winner — a chance to cut a ghazal CD on Sony Music. So get ready for yet another family musical this time in the ghazal format.
A dream or a nightmare?
There's a topic very close to the hearts of people who live in joint families. In fact, Ek Mahal Ho Sapnon Ka deals with the rise and fall of the joint family system, the reasons of separation and unions in a family and the positive and negative aspects of living together.
The storyline revolves around Purshottamdas Nanavati who migrated to Bombay many decades ago with 75 paise in his pocket. All he had was a dream — a dream of building an empire of his own. After a back-breaking struggle of 25 years he becomes a millionaire, with a family of four sons —three happily married and one about to get married — and two unmarried daughters.
He has dreams about the future of his children without realising that his children have their own dreams. A well conceived serial, Ek Mahal Ho Sapnon Ka on Sony is a family entertainer which will keep you glued to your TV screen week after week.
Modelled to dance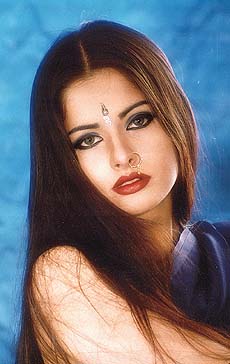 Reela Hota can wring as much mileage from an Odissi dance as she does while modelling on television. But she doesn't do one at the cost of the other. Her face has launched a number of advertisements starting with Heritage Sarees, Meena Bazar and Luxor sign pen. Though, she feels, the most important break came when she landed the Aristocrat Premium campaign.
Reela started modelling while still doing her political science at the Lady Shriram College in Delhi. "I am not overly enamoured by the profession," she says and adds candidly, "It gets you quick returns and money is always welcome."
Reela finds Indian clothes more appealing but she takes on any good assignment which comes her way. In any case, she says, modelling is not her career. I'll do it only till my face sells. No more".
What fascinates her more is dance. A student of Madhvi Mudghal, Reela started dance training while she was still a child and now performs at national and international festivals.
When she gives her solo Odissi performances people can see what a model dancer she is.
Man, the predator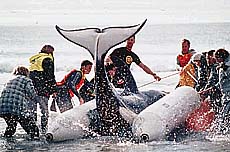 Master of the sea or endangered species? Discovery Channel's Shark Week brings the shark in all its fascinating diversity to viewers' living rooms. Swimming from the ocean's depths to TV screens around the world, a wide variety of sharks reveal their mysteries.
This third annual programming event salutes sharks by spotlighting the behaviour, evolution and ecological importance of these famous and fearsome creatures. Underwater the makers capture stunning images of sharks in motion, while scientists demonstrate their methods and discuss what they have learned about sharks around the world.
Discovery offers viewers a wide-ranging look at the different major species of the shark and their place in the world's ecosystem. The gentle basking shark, for example, preys only on tiny, microscopic plankton. The more predatory sharks clean the ocean by eating scraps and dead fish, helping to maintain a balance among species. And, today's aggressive great white shark descends from an ancient "megatooth" species the size of a tourist bus.
Don't miss this fascinating programme about the sharks and the conservation efforts being undertaken to save it from an even bigger predator — man!
— Mukesh Khosla