"I paint vocals with my music"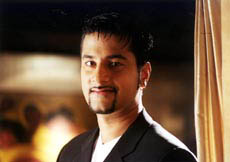 HE has added the spicy and racy beats of the vibrant 90s to unforgettable hits of the swaying 60s. He can be aptly dubbed the king of remixes, for he has both the young and the old, the traditional eastern and the trendy westerns dancing to his tunes.
Today India is thankful to Bally Sagoo, the Ludhiana lad settled in Birmingham, for promoting and popularising Asian music in the West. The Indian children abroad, who once could not relate to what their parents grew up with, now readily embrace Indian sounds.
In 1990, Bally released his first album Wham Bam, a remix of bhangra numbers, which struck a chord with Asians in England. His second album, Star Crazy-I, released in the UK became a chart buster with popular numbers Long gwacha and Gur nal ishq mitha. It was, however, the album Bollywood Flashback in 1994, that shot him to fame here. A tangy recreation of R.D. Burman's hits, the album appealed to the masses, crossing the four-lakh sales mark. The sensual and hummable Chura liya was particularly a hot favourite with the young and old alike.
This creative remixer has also proved his mettle as a serious producer with his eighth album Rising from the East which included a blend of western and traditional elements. The album bowled over the western audiences, and Bally became the first person to bring two Indian language numbers into UK top 40, paving his way into the Guinness Book of World Records.
Apart from making waves as a remixer and composer, Bally is a successful DJ. Bally Sagoo was in the city earlier this month for the release of his new album, Aaja Nachle, specially tailored for his desi fans.
In an exclusive interview with Gitanjali, he spoke of his life and work.
Who is the real Bally Sagoo? Is it true that most of your fans mistake you to be a singer?
Bally Sagoo is a sound. Yeah, most people are under the impression that I sing, but I am not a singer. I am a producer, an artiste. I am also a DJ, a remixer, an international recording artiste. At the same time, I am promoting my culture abroad.
What is the new album, Aaja Nachle, produced by you all about?
Aaja Nachle, being released on Sony Music, is a Punjabi bhangra album. Its vocals, which were recorded right here in Chandigarh last year, have been sung by famous Punjabi singers Hans Raj Hans and Surinder Shinda, plus many new voices, which I am sure are going to become popular all over the world. The album, which has eight new tracks, is named after its theme song, a western bhangra number, sung by Hans Raj Hans.
A couple of weeks ago this album — titled Star Crazy-II— was released in the UK and the USA. This is a sequel to Star Crazy-I, again a bhangra album produced by me in 1992. After its release I had a lot of requests for a follow-up.
Aaja Nachle also has a video to it. The club-oriented lead track, choreographed by Saroj Khan, features Meghna Reddy and me.
What expectations do you have from the new album?
I am so confident about its success that I am not even worried. In the UK, it went number one in all charts just two days after its release. I am excited about the fact that bhangra is becoming popular all over the world.
Where are your true roots?
My true roots are here in India. I was born in Delhi in 1964. Ludhiana is my home-town. My family is from there. When I was six months old, my parents migrated to the UK and set up life in Birmingham. Since then, I have been in England but I come to India many times and each time I love it more and more. I am proud to be a British Asian just as I am proud of the music of both these worlds — western and Indian — but I like them best when they are combined.
How and when did you enter the world of music?
My father, a keen musician, runs a record store, selling imported Indian music. He had a band in the 60s called the Musafirs. It was an instrumental band which played Hindi film tunes. My mother sings religious songs in temples, even now. So, music has always been in the house.
As I was growing up, I came into contact with western music. I loved UK top 40, disco tunes, pop and reggae music. I was always into western music more than anything in this world.
My parents wanted me to become a doctor or a lawyer. But I said I wanted to be a DJ. Twenty years ago, nobody knew what a DJ was. Moreover, It wasn't an Indian thing. But I stuck to buying music and tapes and got into remixing, creating my own beats, in the privacy of my bedroom. Soon I got popular with the kids around my circuit who were freaking out on my tunes. I then began doing demonstrations on the radio station. Realising my potential, my parents asked me to try experimenting with Indian music. So one day on the radio I added Indian tabla and drum beats to western music. Soon calls started pouring in, with people requesting for more of that sound.
By the time I entered college, I was the famous DJ producer, remixer of my circle. In 1990, I got my first major break when a local record company, Oriental Star, asked me to do a remix with Malkiat Singh's Hey jamalo tootak, tootak tutiyan.
What made you reach out to India and Indians?
It was to do with representing the kids of today. Representing the kind of people I'd been brought up with. I am glad I went through that upbringing because it has helped me create this kind of music.
You started the trend of remixes...
R.D. Burman has always been my hero. In his memory I made the album Bollywood Flashback in 1994. I chose R.D. Burman hits. One of the tracks of the album, Chura Liya, became the first Indian language record ever to be listed on Radio-1. After my album, numerous Bollywood remixes became a rage.
Have you faced criticism for using and tampering with original numbers?
Some people don't like what I do. Some people do like what I do. At the end of the day, you can't please everyone. I feel there is need for this kind of stuff. Many kids in the West didn't like Asian music but they like it now. Also at the end of the day, the public is the judge. If it doesn't want your music, it doesn't buy it.
Remixing is an art. And I have this art of creating various sounds and rhythms for the world to enjoy and hear. Today, many Asian artistes, even legends, are in the pop scene because that is what the kids are into and they are the market. Even in films western music is in.
Who didn't like Chura Liya from my album Bollywood Flashback? In whichever part of the world I go, I am told it had a fantastic tune. The original was my favourite, the classic. I recreated another version for the world today, and I am proud of that version. It has opened the door for the other remixers.
What is the process involved in remixing?
Work begins from scratch. The original song is not used. It is resung after getting the formalities cleared. You recreate the song by adding more beats, tunes.
I made Chura Liya into a reggae song, adding rap to it, new sounds to it. It was given a new dimension. That is why it went international. The adults liked it as they remembered it from their childhood days. And the children, who thought it is a brand new song, liked its trendy tune.
You have made it to the Guinness Book of World Records.
The President of India congratulated me for taking Indian music to the UK top 40 not once but twice — which is in the Guinness Book of World Records. Dil cheez, a track from Rising from the East, reached No 12 in UK top 40 and Tum Bin Jiya, from the same album, reached No 21. To get into the chart you have to sell a lot of tapes, you have to appeal to the mainstream. Today, my following is not restricted to a specific age group or nationality.
The popular music of today has an extremely short shelf life. How do intend sustaining your fan-following?
I have a huge following, not just Indians but Whites and Blacks as well. My music is a synthesis of the western and oriental World. I write music for a living. I get my ideas by travelling to different countries. I pay heed to people's demands and put my songs to road test.
I DJ in every country around the world, so I get a very good idea of what the kids want to hear. Then I put together my work, and paint my picture.
Who all have been your role models?
My ideals are R.D. Burman and serious all-time producers like Quincey Jones. My music is very much on the lines of a black producer's, reggae and dance music. And definitely black music is always upfront on the music scene. During my childhood I hung around with DJs who were Blacks. I learnt what they did, and now I have learnt what the Indians do. I have incorporated it into a classic fusion of the East and the West .
What do you enjoy doing the most?
Everything. I experience excitement in all that I do. When I am DJ'ing , I get a high buzz. I am like a king on the throne, for everybody dances to my music. I am glad that the DJ scene has opened in this country, DJ is not the man who just stands there and plays records. It is an art.
Then I have my own recording studio in Birmingham. I enjoy writing music for different people, bands, countries.
Your album Rising from the East wasn't much of a hit with the people here. Why do you think that the response to the new album will be any different?
Rising from the East was geared for the western market, the mainstream. It wasn't for the traditional Indian fans. It was to break me into the mainstream and it did give me international success. I can't cater for every market all the time.
Even Madonna cannot do that. I can't go to the mainstream with bhangra numbers. This album was a serious western production with Indian sounds.
My traditional fans will be able to relate to the new album in which I have captured something for moms and dads, something for real old men and something for youngsters. There is a diverse range of songs. You have got songs that are totally pendu — for taxi drivers, rickshaw-pullers, what my parents listened to when they were young — and then there are others for trendy kids with stereos in their cars, and for clubs, Channel V, MTV and video wires. There is something for everybody.
Apart from Hindi, Punjabi and English, which other languages have you handled?
Just give me the vocals, and I can do anything. I have given music to many Japanese songs even though I don't understand a word of Japanese. I do French, Italian, German projects. People want me to clothe their vocals. I am basically a painter I paint vocals with my music. Arabic mixes, is another project in the pipeline. I have also been invited to take on Bengali music.
What are your future plans?
I will be launching my own record label — Ishq records. At present, there is no label that can represent the youth around the world.
I receive many demonstrations around the world of kids who are seeking a break. I wish to do something for them. Fourteen CDs down the road, I think I can do it now. I have learnt all about the market. Plus, I am doing a couple of tracks for the film, Kartoos, featuring Sanjay, Manisha and Jackie. I have been signed for a couple of more movies, which I will be doing next year.