A surefire winner
By Madhur Mittal
ONE new film cinegoers can look forward to is Kachche Dhaage. Starring Ajay Devgun, Manisha Koirala, Saif Ali Khan and Namrata Shirodkar. The music compositions of this movie are by the late Nusrat Fateh Ali Khan. Lata Mangeshkar has sung under his baton for the first and the last time! If music indeed makes the world go 'round then Kachche Dhaage seems a winner.'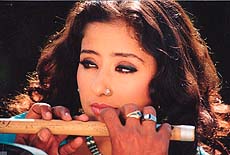 Silver screen beckons
God alone knows how many film offers Ruby Bhatia has received, to date, without yet nodding her head. Relatively less, the same applies to sensuous Laila, as well. However, Kamal Sidhu went in for Aar ya paar, Malaika Arora did the train jig in Dil Se ... and now, the petite and pretty Divya (Palat) has just bagged her movie break opposite none than Salman Khan! The film is called Chal Mere Bhai, produced by Nitin Mohan and directed by "king" of comedy — David Dhawan. More on this lucky, lovely lass soon.
Kajol's on-off switch
Either this celebrated star doesn't agree to doing an interview, in the first place. Or , if, during one of her magnanimous moods, if she does consent, she talks nineteen-to-the-dozen and giggles like only she can!
Nobody is exactly zapped by her admission that "I shall definitely marry in February...." Which year, dear? 1999 or 2010 A.D.? This is not the first time that Kajol has said it; reports and rumours of her "imminent wedding" (sic) have been surfacing every six months or so over the past couple of years.
Besides, she's got at least half-a-dozen big banner movies slated for release this year and cannot imagine her zipping off to the Alps in the midst of so much of adulation to honeymoon. Why doesn't Kajol simply throw away her remote with the on-off-switch?
All for AIDS
Many stars cancelled their shoots and some even flew in from overseas to dazzle the sprawling stage of the Andheri Sports Complex. Such enthusiasm, such solidarity in Bollywood? Incredible! Let's not forget, it was all for a cause: To raise funds for campaigning against AIDS. And, more importantly, let's never forget that this call for the 'show' was given by the one and only Smita Thackeray — daughter-in-law of Shiv Sena supremo, Balasaheb Thackeray!
No wonder Amitabh and Jaya Bachchan, Lata Mangeshkar, Shah Rukh Khan, Karisma Kapoor, Urmila Matondkar, Sanjay Dutt, Jackie Shroff, Aishwarya Rai, Sushmita Sen, Akshay Kumar et. all, willingly danced to her tune. So much so for Mukti Foundation Chairperson's clout.