Welcome to the world's biggest studio
Universal Studios is the world's biggest and busiest television and motion picture studio theme park, writes Upendra Bhatnagar
NO one visiting the USA could possibly miss a chance to visit Universal Studios in Hollywood film city. Why just watch the movies when you can live them? Universal Studios is the world's biggest and busiest television and motion picture studio theme park. A visitor can be a part of movie magic with an action-packed day of spine-chilling rides, thrilling shows, explosive stunts, awesome special effects and amazing adventures.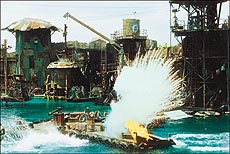 For example, when you visit the location of actual film sets of Jurassic Park you are bound to experience an unforgettable joy ride. You journey deep into the Jurassic jungle aboard a runaway raft to face spilters, raptors and, the ultimate terror -- a towering T-Rax. Just think of a man-eating T-Rax, an eight-storey drop and a boat and ... you. And that's not all.
You must have seen the movie Back to the future. Yes, and Doc Brown is here to welcome you and then suddenly send you screaming through time on the greatest ride in the history of mankind. Blasting back to the dawn of time for wild run-ins with a 50-60 feet high T-Rax, an Ice Age adventure and a molten volcano. After that you find yourself suddenly into Hill Valley 2015! Thrill to the 21 million jigowatt adventure that's like riding a flying rollercoaster. And mind you, you cannot stop screaming.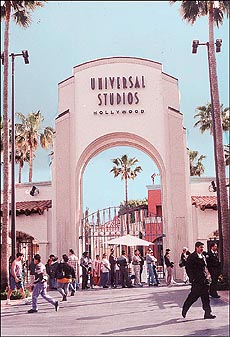 When you are visiting Universal Studio No. 1 you see Waterworld — a sea spectacular. This is a favourite location for most of the producers, directors and stunt cameraman. Everything is real and you are spellbound as you watch breathtaking film live shots. At Waterworld, a live sea war spectacular brings a blockbuster movie back to life. Breathtaking action, death-defying stunts and never-before-seen pyrotechniques will engulf you in a million gallons of pure thrill.
In India, we simply cannot think of those spine-chilling sequences that are being produced and shot by expert cameramen in one take. Can you imagine finding yourself standing on a metal balcony and suddenly being engulfed by flames? Blazing beams, exploding barrels, rocketing drums ... don't be afraid, it is just an special effects thriller. For a moment one feels, "I am gone. God save me." And then a long scream. The location is Backdraft.
That's not enough yet. You are enjoying a toy-train ride and suddenly there is a heart-pounding 8.3 Richter scale earthquake. The atmosphere is filled with screams.
The most wonderful and unforgettable experience one can have during his visit to the Universal Studios, Hollywood, is to go behind the scenes at the world's largest studio for an insider's look at the most famous sets and locations and meet world class directors, actors, cameramen and stuntmen. Keep your eyes open. You never know when Steven Spielberg is taking a shot with you in the frame.
While walking through one of the streets of Universal City get ready for anything and everything. You will certainly remember one of the shops, banks or stores that you must have seen in a blockbuster English movie ... and you yourself are at the same location. These moments become memorable.
And do you know how much you have to spend for all these wonderful adventures? Just $ 38.
After visiting Studio No. 1, your visit to Studio No. 2 becomes unavoidable and you are then supposed to see a beautiful city — all artificial. Wooden and cardboard sets make a complete city street where significant film shots are to be taken.
The most astonishing and wonderful thing in this artificial city is that after big blasts, a stormy blaze, shattering of doors and windows, the set that had been destroyed, is, to everyone's surprise, again at its place within minutes. How is that possible? Well, everything is connected to a hydraulic system that brings them back to their actual position. So actually nothing is destroyed.
Small wonder that in this film city — city of artificial life — everything unreal looks so real.
When you see the shot along with 8,000 to 10,000 watt of pure sound, you go through a spine-chilling experience. The very next moment you try to bring yourself back by saying,"Thank God it was not real".