Let there be perfect lights
By Harkiran Sodhi
EVER since electricity became a part of our daily lives, man has used it in numerous ways. The most obvious usage has been to provide light. The more ornamental role of lighting has been to pick up dark spots, highlight special corners or objects and add a touch of warmth to special rooms.
Just as the uses of lights vary from person to person and room to room, so do the varieties of lights that are available today. The variety of styles, colours, designs, prices as well as the types of light provided are mind-boggling.
The commonest and perhaps the cheapest option available is the tube-light. Cheap on both, the initial purchase cost as well as the electric bill, tube-lights are not the best choice for any and every room.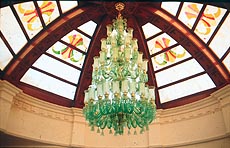 Best suited to for kitchen, bathrooms and verandas — tube lights tend to give a cold and dull light to most rooms. They are certainly best avoided in the sitting room, dining and even the bedroom if possible. Many people tend to mix lighting options and use hidden tube-lights which can be placed on top of pelmets or in false ceilings, and keep warmer lighting options like lamps outside .
The sitting room should have lights that complement it in every way possible. Firstly the choice of lighting does depend on the size of the room. Larger rooms can easily take larger sized light fittings and (if spacious enough) can easily accommodate even a chandelier. The room theme should also be kept in mind when you are selecting the lighting. Very western styled rooms should have light fixtures that complement the look while an ethnic room looks lovely with lamps, which pick up the colours and mood of the room.
Lamps are multi-purpose and can be used simply for reading, to fill in a dull corner or then to add in soft pools of light in the entire room. Lamps are available in varied sizes. Large lamps look great placed on the floor, while the smaller ones are best placed on a small side table.
Lamps can be in brass, wood, chrome, coloured glass, and terracotta. Lamps of stained glass and coloured glass are particularly popular these days. These lamps have either the base of stained glass or the shade and come in a variety of colours and designs. Coloured lamps that are in vogue today are a direct throwback to the glass lamps of olden days that came in deep shades of cobalt blue and emerald green. Lamps in both these styles add a lot of character as well as warmth to the room they are placed in.
In places where the lamps are sold without the lampshades, it is important to fit a shade on to see the finished look before you buy it. The shape and size of the shade must complement the look of the lamp. Often the lamp base is too big and the shade too small or vice versa. In both cases, the look will be incongruent.
Shades for the lamps come in a host of materials. Glass — plain, coloured or stained, cloth, raw silk and thick parchment style paper. The material of the shade will depend on where you are using the lamp. Lamps in the drawing room need shades that look good and are easy to clean. Shades of raw silk and glass are the best bets.
If you want to use a lamp in the study then simple glass or parchment paper looks great. Lampshades are also made to match your curtains or upholstery in the room. This is particularly common in the bedroom.
Dining-rooms need to be lighted well. The soft, dim lighting that looks so romantic in the sitting room is certainly out in this room except for special occasions when you can treat yourself to a romantic soft-lighted dinner (it doesn't have to be candlelight).
Here again, keeping the size of the room in mind, you can choose the size of your lights. Wall brackets are often the best bet in this room and the style of the wall brackets can be matched to the room's look. Another great option is a big, hanging drop-light at the centre of the dining table. This spreads the light out over the entire dining table but keeps the glare out of the eyes. Droplights are available in glass; stained glass, metal and even cloth options. The prices vary according to the style selected.
Using up lighters can pick up indirect lighting areas like the lobby or hallways and some corners that need some soft lights. These come in mounted as well as pedestal options. In this there is a rim that prevents the light from spilling down and instead it throws it up towards the ceiling. Indirect lighting is great to fill in dark corners or used in rooms like even the dining area where you want adequate light without it being harsh.
For those on a shoestring budget, Japanese style paper lanterns in different shapes as well as sizes and colours make a great buy. These can be hung up in almost any room and give you soft lighting with a different look.
Apart from the choice of the lights for each room, there is an equally puzzling array of light bulbs that are presented to you. From regular bulbs to spotlight bulbs and soft light bulbs, it's endless choice, though there are really no hard and fast rules in these matters and just about anything goes anywhere There are a few pointers that might help when in a fix.
Try to use soft light bulbs where there is no shade or a filmy shade on the lamp. The spotlight bulbs are best used for table lamps where you need a focused beam of light in one direction or then these can be used in up lighters. The coloured bulbs are a distinct no-no. In no way will they achieve the look a coloured glass shade will give you.
Dimmers or switches that control the amount of light you get are a good way to play with the light to match your mood. While you are looking at lighting options don't forget to keep an eye on the style and look of the switches that you intend to use. Nothing can mess up the look of that so expensive chandelier you put up in the sitting room more than an ugly, grubby-looking switch. You can match the style of the light with some snazzy switches that are available today.
Chandelier, lamp or lantern — nothing can warm up your room or pick up your mood better than perfect lights for a perfect room.



This fortnightly feature was published on January 10, 1999