An epic that will always hold sway
IT's an epic which will never go out of fashion. Slick production values, excellent performances and a masterly direction have ensured a permanent place for B.R. Chopra's Mahabharat in the annals of the best serials ever made for television.
It speaks volumes of its quality that Mahabharat has been translated into 17 languages and aired by various channels not just in India but in the West and the Gulf countries as well.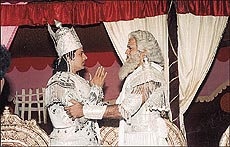 Now, the epic is notching another first. A Mumbai-based company, Bhandarkar Oriental Research Institute, in association with the Cambridge University, has put Mahabharat on the Internet scene for scene after a year and a half of painstaking research.
So, in case you have an Internet connection and a multimedia kit, and a sudden urge to refresh your memories of this eighties epic, just go to httpbombay.
oriental.com and see your favourite characters enact their parts on your computer screen.
Annie's secret Khwahish
The going may be tough for Sushmita Sen and Aishwariya Rai in Bollywood but it's not deterring wannabe stars and beauty queens. Now Annie Thomas the former Miss India and lead star of Khwahish on Sony, wants to make the serial a stepping stone to films.
Annie plays the role of a struggling model aspiring to make it big in the fashion world. "It's all about the experiences of a young girl who is determined to succeed in the tough world of modelling. I could instantly relate to the character as I've had to struggle a lot in the initial stages myself," says Annie.
Like the character she plays in the serial, in real life Annie started out as a model for commercials like NIIT and Electrolux. But her forte was the ramp, and she still does three to four shows a month as she catwalks for almost all leading designers.
Despite the megabucks she makes in modelling, TV evidently is more interesting. "It is. That's where the big challenge lies," says the Miss India-turned-TV star unconcerned about the fact that Bollywood has not exactly laid out the red carpet for either Sushmita or Aishwariya.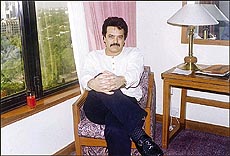 Dishing out Mughlai fare
He may have burnt his fingers with Akbar the Great but Akbar Khan is not likely to give up when it comes to the Mughal dynasty.
The serial maker is now planning another TV marathon titled The Great Mughals, a 104-episode historical epic revolving around the dynasty's kings, their lives and their contribution to India.
The shooting will take place in Uzbekstan, Pakistan, India and Afghanistan where the Mughals held sway. "The groundwork has been done and the serial should go on air by July or August," says Akbar Khan and adds that each episode will cost Rs 25 lakh and negotiations were on with DD and Sony for airing it.
"It will be a great visual treat for television viewers. The locales will be absolutely authentic and no pains will be spared in its production," says Akbar.
For those who remember, the serial maker had made similar claims when he launched Akbar the Great but the serial got mired in so many controversies that it was taken off the air. Let's hope it's second time lucky for Akbar.
News from Zee
What's in a name? Plenty if it happens to have something to do with Zee. The channel first changed El TV's name to Zee India TV. Now Zee India TV is giving way to Zee News — a news and current affairs channel.
The switch-over, according to Zee sources, has included huge budgetary outlays, fresh appointments and new correspondents. The channel has identified two of the most popular past-times of Indians — cricket and elections — as its main planks.
Says Zee boss Subhash Chandra, "Zee News is going in for a change in its editorial policy. It will lay emphasis on science and technology, socio-economic-cultural happenings and sports.
Styled along the lines of coffee shops of five star hotels, the channel will telecast news every half an hour. It will also create different time bands for state, national, south east Asia and international bulletins.
"There's finally a choice for news buffs," says a spokesperson of Zee. Indeed there is. With DD out of the reckoning even before the race has started, it would now be the turn of Star News to pull up its socks and put some depth in its reportage before competition catches up.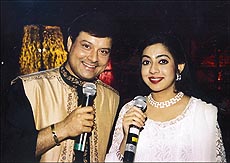 Your turn to sing
Tired of the flood of cricket specials on TV? Here's respite. You can now switch to summer specials on the national network. Picnik Antakshri has been busy innovating its programmes and trying to look as different as possible from the original Antakshri on Zee.
In May it broke away from the routine studio set-up and took its cameras, crew and artists to the cool 'Oysters Water Resort' at Delhi's Appu Ghar where invited participants tested their singing chords amidst waterslides, swimming pools and fountains.
Now it has gone a step further. In a bid to garner popularity, the show is stepping out of the cosy confines of big city studios and is travelling to towns to attract local participation.
So, if you are staying in Chandigarh, Karnal, Ludhiana or Amritsar all you've got to do is to send in your biodata alongwith one song recorded on a cassette in your voice to Picnic Antakshri, BAG Films, C-4 Shivalik, Near Malviya Nagar Market, New Delhi.
And if it's your lucky day you could be soon be singing on the small screen with Sachin and Sanjeevani.
Bad man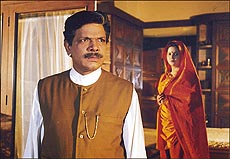 On-screen he's a villain's villain who has threatened the careers of traditional baddies like Paresh Rawal and Gulshan Grover with steller performances in films like Sarfarosh, Satya, Major Sahib and Trishakti.
Though Govind Namdeo has been around on the small screen for a few years it is only now that he's making his presence felt. Such has been the power behind his performances and he blends into the role so smoothly that his own personality gets shrouded.
Whether playing the role of Ajmera in Parivartan or Chhote Thakur in Mahayagya or Choudhury of Aashirwad, Namdeo has been earning a devoted fan following.
But, he says that television is not his ultimate ambition in life. "I want to do a few good (read bad) roles and then go back to theatre where I belong."
His dream is to set up an ashram-theatre open to all where art can flourish without any restrictions. But that, he knows, will take a long long time to materialise. So, till then it is television and films where he's obviously flourishing considering the amount of offers he's getting.

— Mukesh Khosla