Entertaining summer fare
By Ervell E. Menezes
THE other night, quite by accident, I came across a film (on Star Movies) called Imaginary Crimes. It was the 11.30 p.m. movie. I gave it a try and it proved to be quite a fine movie, much better than some of the pot-boilers we see on the screen these days. It's about a conman, forever dreaming of riches around the corner, struggling to bring up his two daughters after their mother dies.
Harvey Keitel, often seen in cameo roles, plays the lead and does a fine job of it. But the story is a nostalgic reminiscence, seen from the viewpoint of a teenager and embryonic writer in which love conquers all. Falruzka Balk, who plays that teenage daughter too is excellent. Shades of Vittorio de Sica's The Children Are Watching Us can be seen in the way it brings out the troubled lives of innocent kids not knowing how to underplay their father's misdeeds as they go through life in its early stages.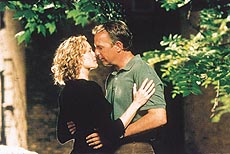 Based on a novel by Sheila Ballantyne, it is a seemingly ordinary tale but narrated quite extraordinarily with director Anthony Drazan having to leave a good deal of the incidents off-screen. Yet this 1994 production is something worth seeing because of its utter frankness as it dissects the minds of unknowing kids in despair.
Jack Frost is a happy children's film woven around Frosty the Snowman and as is the habit of Hollywood these days it indulges in the anything-is-possible genre. Jack Frost (Michael Keaton) is a hard-working musician on the road most of the time. It means he has little time for his wife Gabby (Kelly Preston) or son Charlie (Joseph Cross). But just when he decides to put his family first, on Christmas day, he meets with a fatal accident what next?
You've guessed it. Jack Frost comes back as the Snowman. Well, the story is far-fetched but then that's forgivable in children's films. Also, there's a good moral. It shows how one must spend time with one's family and all that. It's precisely about that Christmas spirit of peace and goodwill. Bon homie too. Of forgive and forget. In India it is set for release during the summer vacation. Good thing, because there days these are hardly and films for kids. Poor things, they keep looking for adult entertainers.
Message in a Bottle is a love story. It deals with the ideal love which could well be the impossible dream. Yes, matches (read marriages) they say, are made in heaven. But they surely are lived on earth. And that's where things go wrong. If Erich Segal in the early 1970s novel Love Story (also made into a film) taught us that love means never having to say you're sorry, Message in a Bottle gives us the exact opposite message — that love is a litany of sorrys.
When Theresa Osborne (Robin Wright Penn) on vacation and running on the beach, comes across the bottle she reads the message in it. Addressed to one Katherine, it is a tribute to a man's dead wife and the writer is sorry he didn't tell her so many of her virtues when she was alive. It is signed G.
Theresa is a divorcee and a journalist. Her heart at once goes out to this G character. Being a journalist with all the world a likely story, she decides to trace G who turns out to be Garret Blake (Kevin Costner), a sailboat builder living in North Carolina. Since the death of his wife, Garret has lead a solitary existence, save for a relationship with his fun-loving father Dodge (Paul Newman) who is trying his best to get his son to put behind those obsessive memories about his dead wife.
Enter, Theresa. It is like a whiff of fresh air. But the frailty of these women. She goes all the way to North Carolina to meet him but still plays hard-to-get. May be it's the fear of another involvement. Director Luis Mandoki handles the subject sensitively. The in-law trouble over her paintings provides variety and the story generally balances on a knife-edge. When Garret discovers she has found the bottle with the message and is probing it, he threatens to end the affair.
Actually the story moves along well, except for some melodramatic moments. Then the final twist gives it more steam.
Robin Wright Penn is brilliant as the woman unsure of her emotions and her varying moods are realistically portrayed. Shades of Candice Bergan in Live for Life or Anouk Aimee in A Man and a Woman. The angst is loud and clear. So is the dilemma. Kevin cosner sort of suffers by contrast and old "blue eyes" Paul Newman has the best lines and Caleb Deschanel's cinematography is breath-taking. All in all, a good entertainer despite its 130-odd-minutes length.




This feature was published on June 13, 1999