An inherited dream comes true
By N. Khosla
AMONG other things my father was a dreamer. A man of spirit and an integrated personality, he yet indulged in pleasant dreams, one of which centred round a plan to build a caravan on a motorised chassis and go for Bharat darshan. In the early part of this century, together with two like-minded cousins he engaged a tonga for three months and covered the Kashmir valley. Years later, the whole family did a X'mas trip to Lucknow by car, something quite uncommon in the thirties, besides treks by bicycle, rickshaw and pony into the interior of the Himalayas when cars could not go beyond Shimla.
This bug had bitten me long back and now, years after the old dreamer has gone, I have built such a caravan or camper and recently did a bit of Madhya Pradesh with an adventurous couple, Diljeet and Renuka Ghuman, both seasoned travellers who have done Solan to Kanya-Kumari (and much else) on a motor-cycle.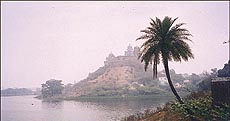 We are inclined to think of Madhya Pradesh as a cousin of Rajasthan but such is not the case. We saw green fields of wheat, mustard and coriander everywhere and plenty of tubewell irrigation. Outcrops of black rock dot the countryside but where the land is level, it is under cultivation. Elsewhere there is teak. We did not see large industries.
Five separate states merged to form Madhya Pradesh and Hindi is spoken everywhere. Bhopal was made the capital and it has expanded manifold and has a population of 10 lakh. Today the old and the new Bhopal cover a vast area and are notionally separated by a hill, atop which sits the magnificent Birla temple. And of course there are the lakes.
Bhopal Bhawan, conceived in an inspired moment is on a slight eminence, just below the Chief Minister's residence and commands a gorgeous view of the largest of the lakes and of old Bhopal. It is a celebration of the arts, classical and folk, performing, literary and visual and, despite some politicking, continues to do good work, preserving the old and promoting the new. The new market is a massive shopping area with a good sprinkling of successful Sindhi enterprises.
We did a little bit of cooking in the camper's galley but did not demur if a likely dhaba appeared on the highway at lunchtime! Tea was always made at 'home'. At restaurants, rest-houses or forest lodges the standard of cooking was satisfactory and what pleased us most was a katori of ghee for the rice and dal. The latter was invariably toor or arhar. For dessert, Renuka managed to produce dates, candy or chocolate from somewhere! All towns and even large villages had plenty of fresh vegetables and fruit. The guavas and Nagpur oranges were superb.
Except for the national highways passing through Madhya Pradesh the roads are nothing to write home about. Narrow, often pitted and with weak and sunken berms, they take away from the pleasure of driving. Speed-breakers have been built with the devil's ingenuity and are the motorist's (and truck and bus driver's) nightmare. No uniform shape nor dependable warning signs. Two warning signs that come up with irritating frequency were: Savdhan: Agay sankeern pullia hai, and Pullia kshatigrast hai: Savdhani se chalen. Slogans like Bachav men he bachav hai occur with such frequency that one is led to observe that if the amount spent on these was diverted to conspicuous road-signs and destination markers, especially where the road bifurcates or there is a crossing, the traveller would be thankful. Drivers of all vehicles were courteous and friendly. The camper was a big attraction wherever we stopped.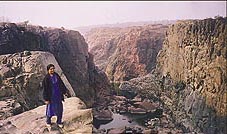 So much has been written about Khajuraho (now in its millennium celebrations) that I will just say the temples are an unforgetable experience. The exquisite workmanship and excellent state of preservation — thanks to the clean air — have to be seen and no description can capture the grand concept. The Archaeological Survey is doing a remarkable job. The Madhya Pradesh Government has laid a park not far from the temples and there is some entertainment on the stage of the amphitheatre every day. On the evening we were there, there was a troupe of doe-eyed girls with Maharashtrian names from nearby Nagpur, presenting various themes in Kathak style. Jatayu vadh and moksha stood out. A twentieth century philanthropist has built a Jain temple 2 km away, which should not have been within 50 km of Khajuraho. It stands out like a sore thumb and hurts one's aesthetic sense so soon after a visit to the thousand-year old edifices.
Half-an-hour's drive from Khajuraho through a thick forest one comes upon a 250 metre gorge, the Raneh falls on Ken river.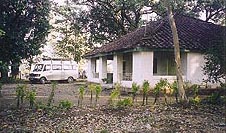 Pachmarhi, which houses a small cantonment and the school of military music, is a spot not to be missed. It has lakes, winding roads, colonial style bungalows and reminds one of other hill stations developed by the British like Ooty and Coonoor. The topography is best described in the words of one Captain Forsyth who visited the area in the thirties of the last century:
"I found the plateau had something of a cuplike shape, drawing in every direction from the edge with the centre where two considerable brooks receive its waters and carry them over the edge in five cascades. The general elevation of this central valley is about 3400 feet, the ridge surrounding it being a few hundred feet higher and here and there shooting into abrupt peaks, of which three (Dhupgarh, Mahadeo and Chauragarh) attain a height of 4500 feet.
"Everywhere the massive group of trees and park like scenery strike the eye; and the greenery of the glades, and various wild flowers unseen at lower elevations, maintain the illusion that the scene is a bit out of our own temperate zone rather than of the tropics."
Capt. J. Forsyth
(The Highlands of Central India)
He constructed the first building raised by the British named Bison Lodge which now houses a museum of natural history. There are well lighted life size displays of tigers, panthers and of course bisons, all a tribute to the art of the taxidermist. Temples in the vicinity draw lots of pilgrims from neighouring towns in Maharashtra and there are flourishing low-priced lodges and eating places. Although the Satpura range is at the same altitude as Dharampur or Solan, the flora are quite different. There are broad leaved trees and bushes and the few pine trees that we saw were obviously exotic.
We spent one night at a forest lodge. When we arrived after sunset we were given a welcome tail-wag by the chowkidar's burly brown watch-dog appropriately named Sheru who took a proprietorial interest in the place and discharged his duties faithfully. Although the place was called Teetar-Pani and was close to cultivated fields and a scrub forest we heard no partridges calling. There were magnificent mahua and banyan trees which appeared awesome in the night and majestic in the morning light.
While the Almighty has been kind to the land we found human faces with pulchritude lacking. There might have been some in Bhopal but they were behind black veils.