Suman is no prude, but...
By Madhur Mittal
IN Bollywood, it is not easy for a heroine to stick to her principles and that too at the risk of losing out on a prestigious film. But Suman Ranganathan has her priorities straight: When she says 'no', she really means 'no'.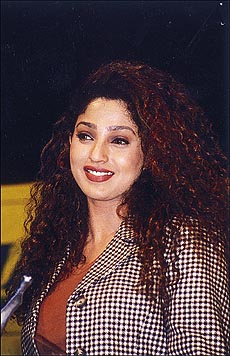 Yes, this long legged, dusky damsel created quite a furore in filmland by refusing to wear a bikini for the picturisation of a song in one of her movies. The nonplussed producer (a top financier) has reportedly threatened to replace her. But Ranganathan is sticking to her guns reiterating that " there's absolutely no justification in being asked to strip down".
When reminded of her revealing dresses in Aa ab laut chalen, Suman fires back: "Sure, the story, the setting and the character were backing me up all the way, so everything was appropriate and very natural. But I have no intention of dropping my clothes just because of film-maker wants to sizzle up some scenes for the heck of it, thank you! Otherwise, everybody knows that Suman Ranganathan is no prude....."
Aishwarya's angel?
What is it about Aishwarya Rai that makes her keep signing on some of the biggest movies? It is almost as if she has a personal angel perched on her shoulder... ensuring that Ash has her hands full — always.
And this, despite the fact that she has yet to claim the dubious distinction of having given a hit film. Besides, most folks would agree that, all said and done, Aishwarya is, at best, a beautiful face and little else! She tends to leave one rather cold when it comes to high histrionics.
During the last couple of weeks, out of twenty odd movies finalised Aishwarya is the leading lady in more that half.
Fried eggs galore
If there's one thing Sanjay Dutt simply cannot resist, it's fried eggs! Maybe it is a lingering conditioning from his high school days at Sanawar (near the Shimla hills) where Sanju studied for many years and where his favourite dish in the "extras" (to be paid out of pocket on the spot) was to gobble down as many fried eggs as he hurriedly could.
Not that it was easy. The head cook had to be coaxed so that even at lunch or dinner time, a generous under-the-counter helping of the delicacy was always available for Dutt Jr. and, since Dad Sunil Dutt kept sonny on a pretty tight financial leash, the invariably cash-strapped Sanju to had devise just about every method to ensure that he got what he relished in plenty.
Incorrigible Mamta
This woman refuses to be cowed down. Webbed in by a pending case against her for "pornographic photographs" on the cover of Stardust some years ago, she'd been avoiding coming to court all this time. But, on May 31, she "surrendered" herself before Additional Chief Metropolitan Magistrate. KH Holambe-Patil — two days before her legal summons expired.
Obviously, Mamta had expected to beat the publicity and the press by doing so, but she was in for a (rude) surprise! Clearly a step ahead, the journalists, photographers and the TV teams were swarming the place much before Mamta's limo screeched in. So, poor Ms Kulkarni had no option but to keep her cool and smile as best as she could.
The excitement in the courtroom was over even before having begun. The criminal charge of violating the provisions of the Indecent Representation of Women Act attracted a petty fine of a few thousand rupees.