Getting serious about love
By Mathur Mittal
PYAAR Koi Khel Nahin is being tipped as a sure-fire box office hit, especially since PolyGram India Limited is presenting this Tristar International offering on a rather ostentatious scale!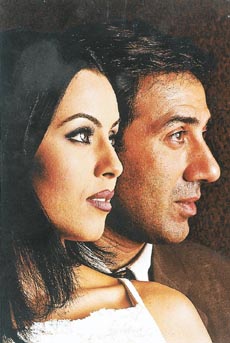 Sunny Deol stars with Mahima Chaudhary and Apoorva Agnihotri and a handpicked supporting cast includes expressive performers like Kulbhushan Kharbanda, Reema Lagoo, Alok Nath, Dalip Tahil and Bindu, among others.
Writer-director-editor Subhash Sehgal is quite pleased with the way his film has turned out. "You see, the very title of the movie is a pointer — and the highlight — of its thematic content. Love should never be taken lightly ... and definitely never taken for granted. True love happens once in a lifetime and it should be nursed and nurtured with the utmost sensitivity, and seriousness. Take it from me, it is a fact. But the sad part is, that most young people who happen to fall in love, don't realise this. After viewing Pyaar Koi Khel Nahin, lovers will become aware of the awesome, precious and divine gift they are fortunate to have and will ensure that they do not let petty, egoistic emotions ruin the haven that was all theirs for the taking..........."
Jatin-Lalit have provided a moody, melodious music score. No wonder both PolyGram and the producer Sibte Hasan Rizvi are already celebrating.
Ash's potential hit
Bollywood bookies are busy weighing the pros and cons of Aishwarya Rai's two new starrers — Sanjay Leela Bhansali's Hum Dil De Chuke Sanam and Subhash Ghai's Taal. This is a rather dicey debate, for the simple reason that both films have there own plus points. Only the stress on her dancing is the common point.
Asking Aishwarya proves to be an exercise in futility. She simply flashes her arresting smile and says: "No, please don't expect me to compare the two films. Not only would it be unfair....but totally impossible, too! "
However, the general impression in the industry seems to be that Taal may be considered a filmi fillip for hero Akshaye Khanna, it just might be Hum Dil De Chuke Sanam which gives this talented actress the big hit that's been eluding her all these years.
Smiling Sonali...
Indeed, this sylph-like leading lady has every reason to beam broadly. For, in spite of all the doomsday soothsayers of Tinseltown, Sarfrosh is a hit — and a big one, at that. Some folks feel that the real life Indo-Pak confrontation in Kargil has had a direct bearing on the success of this reel life presentation.
"I'm telling you, I just knew this movie was going to be a big hit at the box office, says Bendre. "That's why, when the initial trade reports suggested 'a mixed response', I, for one, didn't believe it at all. I mean, I was so adamant — practically stubborn — that a well crafted film like Sarfrosh simply couldn't go wrong. And I'm so thrilled that my gut instinct has proved right."
Sonali can feel still happier, knowing that a number of film-makers are ready to announce new films starring her and Aamir.
Sulking Shah Rukh!
Why on earth is Shah Rukh Khan going around with a sulk? With Yash Chopra's new film, Mohabbatein under his belt and with his 'hero' Amitabh Bachchan, at that, Shah Rukh ought to be grinning from ear to ear.
It seems that Shah Rukh is "very upset and annoyed" with the recent Grasim-Times popularity poll in which Sachin Tendulkar bagged 65 per cent votes as the "Most popular icon in India today"..... whereas starry Shah polled a petty 18 per cent.