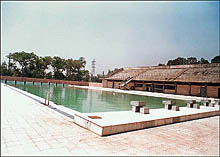 We thank our readers for the overwhelming response to our interactive Caption Contest feature. Due to the volume of the e-mail messages received, we are unable to publish all the captions and only post a representative selection. Often a number of persons send similar messages. In such cases only one message is posted.
World-class facilities available: Champions wanted
Mohit Mahajan
Houston, Texas, U.S.A.
Where have all the people gone?
Simran Kaur Jutla
Springfield, MO USA
Preparations for the Sydney 2000 Olympics....
H. S. Sandhu
Sydney, Australia
A dream to touch the depths of water.
Satvir Kaur
Somerville, USA
"Sorry- This pool can be used only for Olympic games."
Jagdeep Singh
Chicago, U.S.A.
Fire on water (Kargil)
Kartrik Bhavsar
Gujarat, India
"Blank" — as our events medal tally in any international event.
Arshinder Singh Chawla
Chandigarh, India
Mirage...or what?
Shalu
Sunnyvale, CA, USA
Beware of the calm water
Jagdeep Singh
Chicago, U.S.A.