Sandwich starters
By Harkiran Sodhi
APPETISERS need not always be very light. There are times when you have a drinks and heavy snacks party, the idea being that the appetisers are filling enough to substitute for an actual meal. These also are a boon for the hostess who doesn't have to bother with arranging all that extra crockery and cutlery that a full meal entails, as well as in thinking up of an interesting menu for the main meal.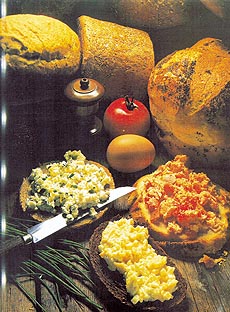 Sandwiches are a common enough feature at most tea parties or children's birthdays, though not a conventional appetiser for a dinner party. The traditional sandwiches should certainly be avoided but there are many types of sandwiches that can easily be used as filling snacks for almost any dinner party as well.
Open sandwiches or sandwiches with a more unusual or interesting filling, as well as sandwiches, which use different bread to the regular ones, are the best options for appetisers. Pinwheel sandwiches and rolled sandwiches and ribbon sandwiches also give you an interesting look along with their great taste.
Open sandwiches if made with crusty bread sliced thick or then with soft round rolls are easy to hold in hand and don't really require a plate. Very thin sandwiches made on regular sandwich bread need to be cut into small sizes in order to easily held by the hand. As being a little limp they tend to come apart very quickly.
Today apart from a few fillings for sandwiches we will also give you ideas on how to make ribbon, and rolled sandwiches as well as tips on storing sandwiches.
Some interesting sandwich fillings:
(1) Shredded cabbage, grated carrot and finely chopped spring onions taste great when mixed with fresh sprouts and seasoned with salt and freshly ground pepper. Spread this on to a thick crusty brown bread that has been generously coated with mayonnaise first.
(2) Tuna fish, finely chopped spring onions, grated cucumber and celery make an unusual topping on French bread. A tartar sauce layer tastes the best with this. (Tartar sauce is mayonnaise with finely chopped spring onions and tomatoes in it.)
(3) Tomatoes which are finely chopped, onions diced small, celery and grated cheese seasoned with salf and freshly ground black pepper taste good on thinly sliced sandwich bread.
(4) Finely chopped green pepper and grated carrot andcabbage mixed with fresh sprouts and mayonnaise are best on a whole wheat bread.
(5) Boiled eggs mixed with mustard, Worcestershire sauce, salt and pepper and fresh cream make an unusual topping on lettuce placed on crusty brown bread.
Ribbon sandwiches
You need three layers of buttered bread and the centre slice should be buttered on both sides with filling of your choice in between. The look improves if you alternate with white and brown bread slices.
Pinwheel sandwiches
Take an unsliced loaf of bread and slice it length ways into thinnish slices. Butter a slice and spread it with any filling of your choice. Roll up the slice from one roll it all the way till the end. Cover it with cling film (plastic wrap ) and leave it in the fridge for about an hour. Remove it just before serving and slice the roll into slices of desired thickness and serve.
Rolled sandwiches
Take a sliced sandwich bread and take one slice out. Remove the crust from it and roll it lightly with a roling pin till it is quite thin. Butter the slice generously and spread with mayonnaise or cream cheese etc and then top it with a cheese slice, or salami. Add fresh sprouts or finely chopped carrot spears placing these with a little bit of them out of the slice. Now roll the bread up tightly till the end and wrap them in a plastic wrap, taking care the seams of the sandwiches don't open up. Leave them in the fridge for at least an hour before removing the plastic wrap and serving.
Tips on storing sandwiches
Often if you have a party to plan you like food that can be made earlier and brought out just in the nick of time to serve. This leaves the hostess with a free and easy mind just before and during the sandwiches and saves a lot of bother of making the appetiser while the party is on full swing.
Sandwiches can easily be prepared up to a day earlier and stored in the fridge till you need to use them. If you store them carefully they will taste just as good and look as fresh as if they were just made. There is certainly nothing less appetising then plateful of sandwiches that are wilted and their edges curling and dry.
To store sandwiches it is best to stack them 3-4 at a time and place a lettuce or cabbage leaf on top and then wrap them in a plastic wrap. Ensure the plastic wrap is well fastened and sealed tightly to be really effective. Put these packets into a damp towel and then put the whole lot into a big clean plastic bag and place in the fridge till ready to be served.
Try not to trim the crusts and edges earlier if you want to store the sandwiches even for half a day. They look and taste fresh if you leave them with their edges untrimmed till just before serving when you cut these off.
Fillings which are high in fat content like cheese, tinned fish, chicken etc are best on sandwiches that are to be stored in the fridge and served later. These do not dry out as fast as some other fillings tend to do. Lettuce, tomatoes, cooked egg, pineapple, are some food items that when used in a sandwich filling do not taste quite as good when stored. These are best made and served fresh.