Soups with body and soul
Originally, soup was not served the way it is today. It was considered a basic food and was considered a meal in itself. These were mostly filling soups which had almost anything and everything on hand added to them, vegetables, meat you name it and it went in, says Harkiran Sodhi.
SOUPS are an ideal way to start the meal with, particularly in the winters. It isn't just the fact that it's cold outside and a hot bowl of soup feels great, it's also because the winter vegetables are so much more interesting and give you a larger scope to create different flavoured soups. Cold soups in summer of course can be just as delicious but keeping the coming season in mind, we are concentrating on the hot soup varieties for the moment.
Originally soup was not served the way it is today. It was considered a basic sustenance and was considered a meal in itself. These were mostly hearty, filling soups which had almost anything and everything on hand added to them, vegetables, meat — you name it and it went in. Eaten with fresh bread these soups more than sufficed as an entire meal in themselves.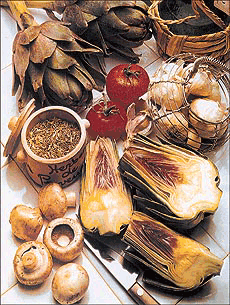 As sophisticated dining concepts and eating at restaurants became popular the lighter and more subtle flavoured soups started making an appearance. These soups isolated ingredients and started using just a few ingredients to make each soup different in flavour and texture to the next.
Soups have been very popular as a form of nourishment for the sickly, convalescing or the elderly as these are easy to digest and give the body all the nourishment that is needed by it.
Most people feel that stock is an essential ingredient to making a good soup. This is not entirely correct as delicious soups can be prepared with out using any stock whatsoever. It is always better to keep some homemade stock handy in the fridge as it saves time in making soup when you are in a hurry.
Soup cubes are also an alternative used by many. These are certainly good to get you out of times when you are in a hurry and don't have time to make stock, but they do tend to be extra salty in flavour as well as give the same monotonous flavour to the food. Also soup cubes that contain monosodium glutamate are not very good for your health in the long run and it is better to try to stay with the healthier option of cooking. Stock used in the West is often meat or chicken based, but it need not always be so. An excellent stock can be prepared using vegetables as well. This stock in fact is healthier as it contains less fat than that of stock made with chicken.
To make vegetable stock at home
Ingredients
1/2 cup cabbage chopped
4-5 medium sized carrots chopped
Half a head of cauliflower chopped
2 small spring onions with stems chopped
As an option you can use a few stalks of celery chopped as well if you like the flavour.
Boil all the vegetables in a saucepan for 20-25 minutes with 10 cups of water on a medium flame. Once they are boiled you can pour out all the liquid leaving the vegetables to be used elsewhere. This should give you about 8 cups of vegetable stock.
To make chicken stock
Ingredients
500 gms chicken (you can use those bits of the chicken here that are usually wasted like the back, wings, neck etc.)
6 cups of water
1 teaspoon salt
1 carrot cut into biggish pieces
1 onion chopped roughly
1/2 teaspoon of whole black peppers
Put all the ingredients into a pan and place on the fire and cook for about 1/2 an hour. Let the mixture cool and then strain it out, removing all the solid pieces of carrot and chicken etc, only allowing the soup bit through.
You can refrigerate this and use it when needed though it is better not to keep it for more than a week if possible. For those on a diet you can remove the fat on the top of the chicken stock once it has been refrigerated as then it will rise to the surface and harden once it cools.
Soups can be divided into many categories. Consomme or clear soups, cream soups, fish soups, pulse soups, hearty soups, quick soups, cold soups to name a few. Clear soups have a thin watery base which traditionally was made from fat free bouillon (this could be meat or chicken) and often egg whites. These soups have a more delicate and subtle flavour and are very good low calorie food options.
Cream soups are essentially those which have vegetables that have been pureed as a base which gives the soup a creamy, thick texture. These have a lot more body, and flavour than the clear soups and are more filling as well. Fish soups have been separated as in France these are a speciality, particularly the bouillabaisse and are also noteworthy for the nutritious value they have.
Pulse soups are made from different types of dals and even peas come into this category. These are again very healthy soups and if made correctly can be perfect for those on a diet.
Quick soups are soups that can be made in a very short while and hearty soups suffice as a meal by themselves. Cold soups are ideal for hot summer days and are delightfully refreshing. Exotic soups is another category which would have soups of different regions, like Chinese soups, Thai soups, and Indian soups.
Soups are also the best way of making your fussy child eat all the needed vegetables and pulses So this winter get set to serve your family a variety of soups, whether it's for a formal party or a relaxed Sunday night dinner.



This feature was published on October 31, 1999