IN PASSING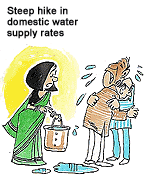 Will you please continue your emotional outburst? I need one more bucketful of water!
By Sandeep Joshi
Bid to blow up police HQ
SRINAGAR, June 7 — Militants fired half-a-dozen rifle grenades towards the police headquarters, two of the grenades exploding outside the main gate of the complex near Batamaloo here this afternoon. Minor damage was caused to a residential house in the locality opposite to the police headquarters, as the inmates escaped unhurt.
Decision on power tariff today
CHANDIGARH, June 7 — The continuing deadlock between the Punjab State Electricity Board and the Punjab Government over the issue of revision of power tariff for domestic and industrial sectors is expected to be broken tomorrow.


Steps to drop marriage customs
BARNALA, June 7 — No playing of bands, no revelry with gulal, no distribution of sweets at the funeral procession of elders; no sweets with marriage invitation cards; girl's marriage at her place of living and no dowry demands among Aggarwals, Brahmins and Khatris of Punjab.
EARLIER STORIES
(links open in a new window)
Govt firm on Lanka unity
June 7, 2000
Kol dam work gets going
June 6, 2000
USA, Russia agree on plutonium cut
June 5, 2000
PM announces Rohtang tunnel
June 4, 2000
11 killed in J&K blast
June 3, 2000
Speight may be part of govt
June 2, 2000
Speight supporters go on rampage
June 1, 2000
Nailatikau named Fiji PM
May 31, 2000
Military takes over in Fiji
May 30, 2000
Gunshots near Mara's house
May 29, 2000
Prabhakar produces videotape as 'evidence'
May 28, 2000