IN PASSING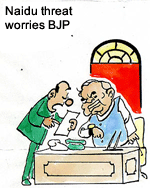 Sir, at this moment Mr Naidu is happy but our 18th partner is threatening.
By Sandeep Joshi
| | |
| --- | --- |
| Chandigarh police officials arrest Mr Gurcharan Singh Tohra and other Akali leaders for violating prohibitory orders at SGGS College, Chandigarh, on Wednesday.— Tribune photo by Manoj Mahajan. | |
Tohra, 7 others held, bailed out
Chandigarh, June 14 — Mr Gurcharan Singh Tohra, Member of Parliament, and seven other members of the Sikh Education Society, were today arrested by the city police for violation of provisions of Section 144 CrPC.
Babu Parmanand is Haryana Governor
NEW DELHI, June 14 — A Former Speaker of Jammu and Kashmir, Mr Babu Parmanand, will be the new Governor of Haryana while Mr M.M. Jacob will continue as the Governor of Meghalaya.
Distillery of Bhajan's son-in-law sealed
CHANDIGARH, June 14 — Associated Distillery, Hisar, which is owned by Mr Anoop Bishnoi, a son-in-law of the former Chief Minister, Mr Bhajan Lal, was sealed today by a special team of the Haryana State Pollution Control Board for allegedly releasing untreated effluent waste, according to information received here.


Bridge on river Ravi, oh no!
SHEHZADA (Indo-Pak border), June 14 — Farmers of various villages along the Indo-Pakistan border have to carry tractors on large boats to cultivate their fields across the Ravi. The government has failed to construct a bridge even after 53 years of Independence.
EARLIER STORIES
(links open in a new window)
SAD expels 9 MLAs
June 14, 2000
India offers $ 100 m credit to Lanka
June 13, 2000
30 jawans killed in bus mishap
June 12, 2000
Jaswant visits Lanka today
June 11, 2000
Harpreet Kaur's death: HC orders CBI probe
June 10, 2000
No rift in NDA on Lanka: DMK
June 9, 2000
Lankan minister among 22 killed
June 8, 2000
Govt firm on Lanka unity
June 7, 2000
Kol dam work gets going
June 6, 2000
USA, Russia agree on plutonium cut
June 5, 2000
PM announces Rohtang tunnel
June 4, 2000
11 killed in J&K blast
June 3, 2000