IN PASSING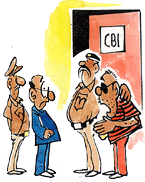 I swear, I am involved in several cases but I never played cricket in my life.
By Sandeep Joshi
False cancer alarm for ear ailment
NAGPUR, June 16 — A plea for mercy-killing of a 10-year-old girl suspected to be suffering from cancer, which was turned down recently by the high court, proved to be a false alarm as the doctors attending upon her at a local hospital found that she was suffering from an ear ailment.
Kerala row over seats blows over
THIRUVANANTHAPURAM, June 16 — Crisis in the ruling Left Democratic Front (LDF) in Kerala over the sharing of Rajya Sabha seats was resolved today with the principal partner, the CPM, deciding to withdraw its candidate, Mr K. Chandran Pillai, in favour of the CPI and RSP nominees.
Gill: I-cards to be mandatory
CHENNAI, June 16 — The production of photo identity cards (PICs) by people for casting votes during the assembly poll in Tamil Nadu, Kerala, West Bengal and Pondicherry would be made mandatory, Chief Election Commissioner M.S.Gill said here today.
NC may advance Assembly poll
JAMMU, June 16 — The ruling National Conference leadership is said to be toying with the idea of holding assembly elections in Jammu and Kashmir a year ahead than scheduled in case the Centre refused to restore to the state greater autonomy which it enjoyed till 1952.
Dalit woman stripped: report
AMRITSAR, June 16 — In its three-page fact-finding report, the Association For Democratic Rights (AFDR) has alleged that a poor Dalit woman was stripped by some influential persons of her own Gillwali village in full public view. The AFDR has indicted the police for framing a 'weak case' against the accused.
EARLIER STORIES
(links open in a new window)
Azhar introduced me to bookie: Cronje
June 16, 2000
Nine killed in UP poll violence
June 15, 2000
SAD expels 9 MLAs
June 14, 2000
India offers $ 100 m credit to Lanka
June 13, 2000
30 jawans killed in bus mishap
June 12, 2000
Jaswant visits Lanka today
June 11, 2000
Harpreet Kaur's death: HC orders CBI probe
June 10, 2000
No rift in NDA on Lanka: DMK
June 9, 2000
Lankan minister among 22 killed
June 8, 2000
Govt firm on Lanka unity
June 7, 2000
Kol dam work gets going
June 6, 2000
USA, Russia agree on plutonium cut
June 5, 2000
PM announces Rohtang tunnel
June 4, 2000