Comic relief
It's comedy time whenever, he's around. Whether as the harassed father of girls in Hum Paanch or even as a nutty professor who suffers critical memory lapses in Prof Pyarelal.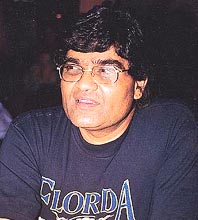 Now Ashok Saraf has donned another role — that of the owner of a courier company whose motto is "We courier anything — from a needle to an elephant."
The new comedy Don't Worry Ho Jayega, says Saraf, is Ghar Ka Mamla. In other words, it is a home production with wife Nivedita at the helm of affairs. Few outside Maharashtra know that Saraf has been a successful leading man in a number of Marathi films. So, how does it feel to be demoted to the role of a comedian on TV and in Hindi films?
"It is not a demotion," says Saraf, "I see it as an elevation. In Marathi films I was confined only to limited viewership. Now I am recognised wherever I go. It's a very heady feeling."
And he's a busy man these days. Besides two ongoing sitcoms and his new comedy, Don't Worry Ho Jayega, his home company is also launching another serial, Yeh Tanhayian. Then he has ten film projects going. Which, according to him, is no laughing matter.
A'just' serial
This is not exactly B.R. Chopra's Insaaf Ka Tarazu. No, nothing so riveting about it. Like many other DD offerings, Insaaf every Thursday, 9 p.m. is a serial loaded with social messages.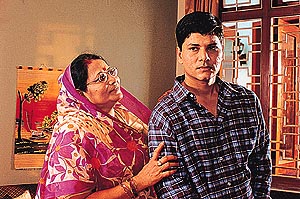 It is about the good work being done by the Indian judiciary and how justice is doled out to every citizen without bias to any caste, creed, colour, religion or region.
To prove their point, the producers delve into real life court cases and showcase how the Constitution protects the rights of all Indians.
"Through this serial we want to generate public awareness about our legal system and maladies in the society," says producer Manish Goswami.
Through much of its duration the serial is at pains to explain the circumstances in which mistakes are committed and the subsequent court cases which can go on and on.
"The major part of the story is about victims, their lives and sufferings while the court room drama plays a secondary role," explains Goswami helpfully. If you find that stimulation enough, go right ahead and see wheels of justice move in this serial.
Singing a different tune
If you thought Punjabi pop was beginning to die a slow, agonising death, think again. Almost two years after his debut album Jogiya Khalli Balli hit the music stores, Bhupi is back on the scene with Wallah Wallah.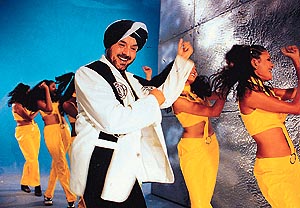 The album which has music by Jawahar Wattal, has a foot-stomping video choreographed by Saroj Khan which is keeping TV music channels extremely busy.
But Bhupi feels music comes first and the video comes later." If the music is good people will hear the song and watch the video. Otherwise they'll switch channels," he says. The singer is emphatic about the purity of his lyrics and music and says he never compromises on the quality of the song.
"I am more of a singer and less of a pop star. Pop has never been my target," says the man who dreams of becoming the true Punjab singer in the days to come.
When the going gets tough
Participants in the recent Discovery Eco Challenge experienced nature that tourists and travelogues cannot begin to contemplate.
The drama of this multi-day adventure race will unfold soon on the Discovery Channel. The programme captures the action as teams test their physical and mental limits while attempting to conquer the land and cross the finish line.
One of the world's toughest expedition races, Eco Challenge across Patagonia in Argentina requires teams of four people, to complete a 318 km race featuring horseriding, kayaking trekking, rafting and mountaineering. Each team decides when to sleep and for how long.
The race begins with lake kayaking as competitors battle Patagonia's infamous winds. From there, the competitors drag their kayaks up steep, gravel hills and then swim across the Rio Limay bank in the frigid waters, where they mount their horses for a 40-km ride across the famous golden grasslands.
It's the ultimate in excitement and the only passport to the race is that you have to be as physically fit as a mountaineer, Olympic racer and Tour de France competitor all rolled in one!
Breaking news
Twenty years ago a channel changed the way the world looks at news. CNN was launched in June 1980 as the first 24-hour rolling news channel.
From a fledgling cable channel which critics dismissed as a flop, CNN has today metamorphosed into a global American news giant reaching a billion people worldwide and stretching across 11 TV networks, 12 websites, 37 bureaux: and a workforce of over 4,000.
The network came of age during the 1991 Gulf War and its motto global reach, local touch has spelled unqualified success. And CNN has had its memorable moments when Mikhail Gorbachev asked its CEO for his pen to sign the papers officially dissolving the Soviet Union.
Or when correspondent Peter Arnett sewed $ 100,000 in his leather jacket while covering war-torn Baghdad. Or even when India bureau chief Satinder Bindra was fired upon by Pakistani forces while covering the Indo-Pak war.
— Mukesh Khosla