THE TRIBUNE MAGAZINES
On Sundays

On Saturdays

IN PASSING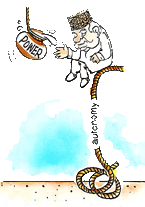 By Sandeep Joshi
PM announces govt-industry group
LISBON, June 27 — Prime Minister Atal Behari Vajpayee played the charming CEO of India Inc while addressing the European business community at the India-EU Business Summit here today.
Retire unfit staff: SC
NEW DELHI, June 27 — In a significant judgement, the Supreme Court has held as valid the service rule which provides for superannuation of an officer who has no potential for continued useful service beyond a particular age.




Protesters throw stones at the police; and (right) one of the protesters caught in the lathi charge during the demoliton drive in Jalandhar city on Tuesday. — photo by Sanjeev
DSP injured in demolition drive
JALANDHAR June 27—Demolition of seven roadside mazaars and a temple during the night-long "anti-encroachment" operation carried out by the local Municipal Corporation authorities culminated in rioting, tension, and brick-batting between irked residents of certain localities in the city and police officials this morning.
EARLIER STORIES
(links open in a new window)
J&K autonomy report passed
June 27, 2000
Telecom Dept to be bifurcated
June 26, 2000
Panel on telecom corporatisation
June 25, 2000
Fiji rebels, army strike deal
June 24, 2000
NC may put off autonomy debate
June 23, 2000
Farooq favours national debate
June 22, 2000
Stormy start to debate
June 21, 2000
Autonomy session begins
June 20, 2000
Bihar carnage: Special court to try killers
June 19, 2000
Ranvir Sena massacres 35 in Bihar"
June 18, 2000
Azhar, Kapil should quit: Dhindsa
June 17, 2000
Azhar introduced me to bookie: Cronje
June 16, 2000
Nine killed in UP poll violence
June 15, 2000
SAD expels 9 MLAs
June 14, 2000
India offers $ 100 m credit to Lanka
June 13, 2000
30 jawans killed in bus mishap
June 12, 2000
Jaswant visits Lanka today
June 11, 2000