IN PASSING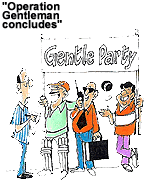 We have decided to launch our own party.
By Sandeep Joshi
Cricketers lose shine
NEW DELHI, July 22 — ''Palmolive da jawab nahin''. These words from Kapil Dev a few years ago were enough to spur thousands of 15-year-olds to try their father's razor. Sachin had to just say that he likes Action shoes and thousands of tiny tots could be seen wearing them to school.
Raids provide 'tangible' proof
NEW DELHI, July 22 — The raids on leading cricketers, administrators and bookies have provided ''cogent'' evidence of amassing of wealth which has ''direct nexus with match-fixing'', the government said today even as the Income Tax authorities prepared to open over 60 bank lockers sealed during the two-day operations.
Kapil asks IT Dept to end rumours
NEW DELHI, July 22 — Cricketer Kapil Dev today asked the Income Tax Department to clarify the raids on those in the cricket world so that "rumours and baseless statements" could be avoided.
Farooq briefs Krishan Kant
NEW DELHI, July 22 — The Jammu and Kashmir Chief Minister, Dr Farooq Abdullah, who returned here yesterday after his visits to Hyderabad and Chennai, met the Union Home Minister, Mr L K Advani, again today on the autonomy issue.



Cotton growers' hopes washed away
SANDOHA (Bathinda), July 22 — Mr Gurnam Singh, a farmer of this village, paid Rs 68,000 to get 8.5 acres on lease to grow cotton with the hope that he would make a handsome profit. He also spent Rs 2,500 per acre more to grow cotton.
EARLIER STORIES
(links open in a new window)
CRR, bank rate up; Re at all-time low
July 22, 2000
IT raids on premises of cricketers
July 21, 2000
Three Sena ministers quit Union Cabinet
July 20, 2000
Union Cabinet halts Jagmohan's drive
July 19, 2000
51 die in Patna plane crash
July 18, 2000
Thackeray threatens to oust Deshmukh
July 17, 2000
No compromise on autonomy: NC
July 16, 2000
NHRC rejects govt defence on PoT Bill
July 15, 2000
Chaudhry, other hostages freed
July 14, 2000
8 die in Kinnaur landslip
July 13, 2000
Vajpayee invites CM for talks
July 12, 2000
NC discusses options
July 11, 2000
Crucial NC meeting today
July 10, 2000
BJP leaders back RSS chief's demand on J&K
July 9, 2000