Rani Vs Kareena
Filmmaker Milan Luthria is a cool chap who gets along famously with just about every star... as the unit of Kachche Dhaage will vouch for anytime. Then how come he's having hassles making Chori Chori...?
The grapevine has it that it is heroine Kareena Kapoor who is acting pricey. Right from the day she was signed on, she reportedly started throwing starry tantrums — before actual shooting could ever begin. Diplomatically, Luthria isn't opening his mouth for the Press right now, but soon enough, the snoops are bound to get to the real reason why Rani Mukherjee has replaced Bebo!
Ghazal sing(h)er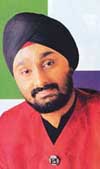 Well, Jagjit Singh has been around a long, long time, regaling listeners with his dulcet soft voice and excellent singing. And now, Tips is introducing a young, new ghazal 'Sing(h)er'. A young Sikh lad, his name is Jasvinder Singh and he has recently released his first, solo album — Yours Truly — all over the world!
His voice is arresting. His style is superb. And his 'reach' (in more ways than the obvious) is truly tremendous! Son of music magician Kuldip Singh (of Saath Saath and Ankush fame) and a disciple of Dr Sushila Pohankar, Jas has been singing for a number of popular teleserials and movies.
Bhatts: At loggerheads!
No, no, lest you misunderstand, the Bhatts aren't engaged in a family feud. Yes, they're angry alright, seething with (violent) passion and itching to punch a particular hero in his face — he happens to be non other than Anil Kapoor!
Making Tumko Meri Kasam on a lavish scale, presenter Mahesh Bhatt, producer Mukesh Bhatt and director Vikram Bhatt are sore with Anil for letting them down at the eleventh hour. It appears the Kapoor, who agreed to do this film (even accepted the signing amount) over an year ago, was busy holidaying in the USA while the Bhatts waited (in vain) with the cast and crew, for him to turn up in Switze-rland.
Mahesh and Mukesh are resorting to legal action. And, in the meantime, they've replaced Anil with Shivdasani (of Mast fame). I do hope it doesn't amount to jumping from the frying pan into the filmi fire...!
Rumour has it ...
... that Refugee is likely to drag at the box office — thanks to bad music.
... that Sunil Shetty will soon be chucked out of the film industry!
... that Kareena Kapoor is too smart for her own good. So wish her loads of luck!