IN PASSING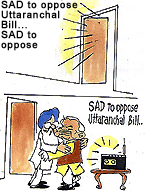 by Sandeep Joshi
Civil Services Exam results
Chandigarh Aug 7 — The Union Public Service Commission today declared the results of the Civil Services Preliminary Examination held on June 4. Almost 1,50,000 candidates had appeared in this examination, out of which 5,076 have qualified.

Bharatpur lacks facilities: report
NEW DELHI, Aug 7 — The court of inquiry which went into the cause for fire at the ammunition depot, Bharatpur, in May this year has pointed to major deficiencies in the facilities for storage of ammunition. The report has pointed not only to the ammunition at the depot being in access to the storage capacity that was available but also to the lack of fire fighting facilities and personnel.



Sutlej disaster survivors' unending hope
BROW (Kulu), Aug 7 — The grief-stricken survivors of the Sutlej disaster are still hopeful of finding the bodies of their near and dear ones who perished in the flashfloods a week ago.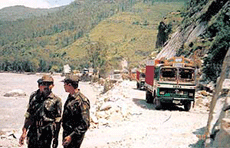 Road opened to traffic by the Public Works Department at Nogli on Sunday. — Photo by Vijay Sharma


EARLIER STORIES
(links open in a new window)
SAD not to pull out of NDA
August 7, 2000
Govt drops federal agency plan
August 6, 2000
Killings not to hinder talks: PM
August 5, 2000
Centre, Hizb agree to set up panels
August 4, 2000
Night of massacres leaves 105 dead in valley
August 3, 2000
150 feared dead in HP flashfloods
August 2, 2000
Veerappan kidnaps thespian Rajkumar
August 1, 2000
30 Indians held hostage, freed
July 31, 2000
Hurriyat welcomes talks offer
July 30, 2000
Govt orders probe into leakage
July 29, 2000
LS, RS adjourned on Jethmalani issue
July 28, 2000