THE TRIBUNE MAGAZINES
On Mondays


On Sundays

On Saturdays

IN PASSING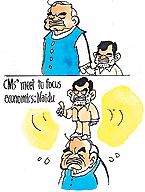 by Sandeep Joshi
Body sighted on Russian sub
All crew members declared dead
MOSCOW, Aug 21 — Nine days after the tragic loss of the nuclear submarine Kursk during exercises in the Barents Sea, the Russian navy officially confirmed today the deaths of its 118 crewmen after divers found the wreck to be completely waterlogged.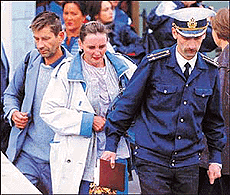 A Russian marine officer walks with the parents of Maxim Barazhov, a sailor from Kursk submarine, after they arrived in the city of Murmansk on Sunday. —Reuters photo.
Uma Bharti resigns
NEW DELHI, Aug 21 — BJP leader and former Union Minister Uma Bharti today resigned from the Lok Sabha, saying she was quitting politics for good. She also resigned from the working committee of the BJP.
Junior minister feels snubbed
JALANDHAR, Aug 21 — The simmering discord between the Cabinet ministers and the ministers of state of Punjab came out in the open today. The Minister of State for Urban Development and Housing, Mr Ranjit Singh Ballian, accused his superior and the Urban and Housing Development Minister, Dr Upinderjit Kaur, of "humiliating and ignoring" him at a function organised by the Punjab Urban Development Authority here today.
PTDC to close holiday homes
AMRITSAR, Aug 21 — The cash-strapped Punjab Tourism Development Corporation has decided to close holiday homes at Srinagar, Goa, Shimla and other stations.
EARLIER STORIES
(links open in a new window)
Militants kill 4 in Udhampur
August 21, 2000
Oil price hike may lead to clash
August 20, 2000
Militants massacre six villagers
August 19, 2000
3 Pak troops shot dead
August 18, 2000
18 hurt in Kashmir grenade blast
August 17, 2000

Stop proxy war, PM warns Pak
August 16, 2000

Growing intolerance worries Narayanan
August 15, 2000

5 jawans die in Udhampur blasts
August 14, 2000

Centre sounds red alert
August 13, 2000

ISI agent held, RDX seized
August 12, 2000

Srinagar car blast kills 12
August 11, 2000

Pak sabotaged peace process: Advani
August 10, 2000

HP flood havoc: herculean task ahead; Kinnaur area remains cut off
August 9, 2000