THE TRIBUNE MAGAZINES
On Mondays


On Sundays

On Saturdays

IN PASSING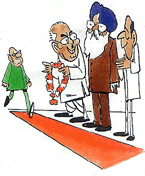 ... and he is distantly related to Mahendra Chaudhry's personal staff member!
by Sandeep Joshi
The deposed Prime Minister of Fiji, Mr Mahendra Chaudhry, addresses a press conference in Shimla on Tuesday.
Chaudhry's three-pronged plan
Restoration of democracy in Fiji
SHIMLA, Aug 22 — The deposed Fijian Prime Minister, Mr Mahendra Chaudhry, feels that international community should seriously address to the menace of repeated military coups to dislodge the democratically elected governments in Fiji.

House adjourned amid unruly scenes
SHIMLA, Aug 22 — The Himachal Pradesh Vidhan Sabha was adjourned here today amidst unruly scenes as the opposition Congress legislators trooped into the well of the House and tried to block proceedings in support of their demand for a CBI enquiry into the "charge sheet" against the BJP-HVC combine government submitted by them to the Governor and dismissal of those ministers against whom allegations of corruption have been levelled.
EARLIER STORIES
(links open in a new window)
Don't use Army for internal security,
says General Malik
August 22, 2000
Militants kill 4 in Udhampur
August 21, 2000
Oil price hike may lead to clash
August 20, 2000
Militants massacre six villagers
August 19, 2000
3 Pak troops shot dead
August 18, 2000
18 hurt in Kashmir grenade blast
August 17, 2000

Stop proxy war, PM warns Pak
August 16, 2000

Growing intolerance worries Narayanan
August 15, 2000

5 jawans die in Udhampur blasts
August 14, 2000

Centre sounds red alert
August 13, 2000

ISI agent held, RDX seized
August 12, 2000

Srinagar car blast kills 12
August 11, 2000