Friday, August 25, 2000,
Chandigarh, India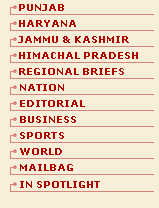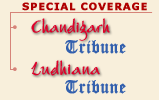 H A R Y A N A


Cong leader's bodyguard convicted
KURUKSHETRA, Aug 24 (UNI) — Satpal Singh bodyguard of a former Haryana Congress minister Devender Singh has been convicted and sentenced to two years' rigorous imprisonment and a fine of Rs 10,000 by additional Chief Judicial Magistrate (CJM) M.C. Mehra here today.

Staff shortage bane of college
FATEHABAD: The local Government College for Women is faced with a plethora of problems. These range from a shortage of staff to the lack of some basic facilities.

Cops at the receiving end
FARIDABAD, Aug 24 — Policemen seem to be increasingly becoming the "soft target" of road-rage incidents and cases of violence in the district if the recent crime statistics are any indication. At least six police officials have been killed or injured in these incidents in the past several months.

Municipal engineer accused of corruption
PANIPAT, Aug 24 — Ex-president of the BJP Yuva Morcha Rajesh Bhatia and BJP general secretary Suraj Prakash alleged that the Nagar Parishad of Panipat has become a den of corruption.

Oppn charges against CM 'baseless'
SONEPAT, Aug 24 — Mr Dev Raj Dewan, an Independent MLA from Sonepat, has criticised the Opposition for misleading people, including traders, against the Indian National Lok Dal (INLD) Government headed by Mr Om Prakash Chautala, in a desperate effort to recover their lost ground.

Fashion does not matter much here
AMBALA, Aug 24 — Fashion in Ambala, especially among the youth, is outdated and the clothes worn seem to have been caught in a time warp. Despite being near Chandigarh, Ambala does not seem to have moved forward in fashion.

95,000 looted, three injured
SIRSA, Aug 24 — Five armed men allegedly forced their way into the house of an audio cassette seller, Nazar Singh, injured the owner, his wife and son and looted Rs 95,000 in the local Jagdamba Colony last night.

Pirated textbooks being sold openly
PANIPAT, Aug 24 — Pirated, cheap textbooks for students of class I to Class XII are daily being openly sold in this district as a result the sale of government book depot has been reduced by about Rs 12 lakh during 1998-2000.
Libraries for martyrs' native places
August 24, 2000
Dalal dares Chautala
August 23, 2000
More powers for Revenue Dept
August 22, 2000
Potable water scheme okayed
August 21, 2000
Pressure on govt to remove DGP
August 20, 2000
Drive against power thefts successful
August 19, 2000
Farmers suffer as truckers, rice millers fight
August 18, 2000
Suspense over CM's visit
August 17, 2000
Rs 750-crore grant for NH four-laning
August 16, 2000
Major recruitment drive by police
August 15, 2000
President sets up Governors' panel
August 14, 2000
Chautala urges PM to convene
NDC meeting
August 13, 2000