Sunday, September 10, 2000,
Chandigarh, India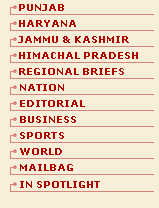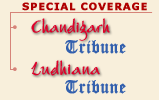 M A I N N E W S
Masala movie story unfolds
From Harjeet Singh
BATHINDA, Sept 9 — It could be a story fit for the script of a Bollywood masala movie. In a bizarre incident, Baldev Singh Deba of Dialpura Mirza village of this district along with seven other associates, who are from different villages, were given Rs 1 lakh by Nirmal Singh, who lives in the USA, to kill Kaddar Singh Kadda of Rajjiwala village.
Nirmal Singh who eloped with the mother of Kaddar Singh some time ago wanted Kaddar Singh to be killed as his mother, who is a widow and nurse, left Nirmal Singh and eloped with his son Harpreet Singh, who is also living in the USA.
Nirmal Singh wanted to take revenge from the mother of Kaddar Singh Kadda so he hired Baldev Singh Deba and his seven other associates and sent Rs 1 lakh as contract money. The eight-member gang had planned to kill Kaddar Singh but the district police raided the dharamshala of Dulewala village where the eight members were busy making plans.
This eight-member gang had bought pistols but could not translate their plans into reality. Most of the members of this gang are kabaddi players.
Mr Jatinder Kumar Jain, SSP, said this eight-member gang was involved in various looting incidents in this district. This gang had robbed jewellery from Buraj Ladha Singh Wala and had planned to steal money from traders in the paddy season. He added the police had seized 5 kg opium, two .303 pistols, one .12 bore pistol, one toy pistol and one sword from this gang.
He added that Baldev Singh, chief of the gang, Gurpreet Singh, Amandeep Singh, Bakhtaur Singh, Lakhwinder Singh Gora, Gurpreet Singh Sodhi, Sukhwinder Singh, Punnu Singh, all gang members, had been arrested. A case under Sections 402, 492, 411, 148, 149, 25, 54 and 58 of the IPC had been registered against the gang members.