Najma addresses UN
UNITED NATIONS, Sept 9 — For the deputy chairman of the Rajya Sabha, Mrs Najma Heptulla, it was a unique honour to address the World Millennium Summit on Friday in her capacity as the president of the governing council of the Inter-Parliamentary Union (IPU).
5 English, Pak cricketers implicated?
LONDON, Sept 9 — two unnamed English players and three Pakistanis have been implicated in the CBI interim report on match-fixing scandal expected to be released on September 29, the Daily Telegraph reported today.
THE TRIBUNE MAGAZINES
On Mondays


On Sundays

On Saturdays

IN PASSING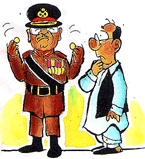 No need to worry about Mr Vajpayee's speech. I was wearing ear-plugs!
by Sandeep Joshi
Nine ultras, 2 jawans killed
SRINAGAR, Sept 9 — Nine militants, most of them foreigners, and two securitymen were among 13 killed in militancy-related incidents all over the state during the past 24 hours.
Panjwar threat to Nihang family
AMRITSAR, Sept 9 — It was June 23, 1990, when the family of the Sarpanch of Mallian village in this district waged the first civil battle against militants.
Masala movie story unfolds
BATHINDA, Sept 9 — It could be a story fit for the script of a Bollywood masala movie. In a bizarre incident, Baldev Singh Deba of Dialpura Mirza village of this district along with seven other associates, who are from different villages, were given Rs 1 lakh by Nirmal Singh, who lives in the USA, to kill Kaddar Singh Kadda of Rajjiwala village.





Roopali.
— Tribune photo by Parvesh Chauhan
Abandoned daughter of Kargil martyr
CHANDIGARH, Sept 9 — Relationships die with death, learnt Roopali Suresh Jadav only after her father died in the battle for Kargil. Her mother died of shock soon after. Abandoned by the family, the 25-year-old handicapped daughter of an Army Captain, with just a pair of trousers to her name, is at the mercy of strangers.
EARLIER STORIES
(links opens in a new window)
PM exposes Pak doublespeak
September 9, 2000
Paddy purchase from Sept 21
September 8, 2000
Telecom strike hits services
September 7, 2000
Minor daughters of officials molested
September 6, 2000
Indo-UK pact on terrorism
September 5, 2000
Minister's kin dies in lock-up
September 4, 2000
Three ultras, JCO killed in encounter
September 3, 2000
Consensus eludes ISC on residuary powers
September 2, 2000
Freeze on Assembly, Lok Sabha seats till 2026
September 1, 2000
PM announces sops for small units
August 31, 2000