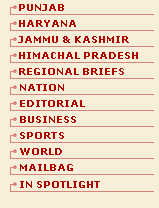 Thursday, September 21, 2000, Chandigarh, India
10 Pak troops killed
India, Pak exchange fire on LoC
SRINAGAR, Sept 20 — An Army personnel was killed and five others were injured when Pakistani troops fired from across the border in Jammu and Kashmir yesterday, a Defence Ministry spokesman said.
Army supplies for Pak via UAE
NEW DELHI, Sept 20 — Beleaguered by crisis-ridden economy and virtual isolation by the major western powers, Pakistan's chief executive, General Pervez Musharraf, is trying to bolster his image by acquiring military supplies by using the United Arab Emirates as conduit.
CAST YOUR VOTE
Will Bill Gates' visit have a significant impact on India's IT sector?