ASF put in cold storage
Sharad wanted 10,000 Biharis on force
NEW DELHI, Sept 26 — The grandiose plans of raising a crack aviation security force (ASF) has been put in cold storage because of the fear of having to induct 10,000 nominees of Union Civil Aviation Minister Sharad Yadav.
THE TRIBUNE MAGAZINES
On Mondays


On Sundays

On Saturdays

IN PASSING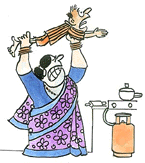 Help, help, my wife wants to become Malleswari!
by Sandeep Joshi
Punjab, Haryana against cuts
Sales & other taxes on petro products
CHANDIGARH, Sept 26 — Both the Punjab and Haryana Governments are finding it hard to accept the suggestion of the Union Government to cut down sales and other taxes on petroleum products. "This is one major source of revenue and we just can't afford it," senior officers here said.
Taxmen zoom in on dream merchants
MUMBAI, Sept 26 — Income tax teams today raided premises of film stars Salman Khan, Aishwarya Rai and Amrish Puri and director Yash Chopra as part of massive operations to unearth black money in India's film capital.
3 hurt in stone pelting
SUNAM, Sept 26 — Three employees — Mr Prem Singh (PWD), Mr Karnail Singh (PWD) and Mr Hakam Singh (Education) — were today injured when some miscreants reportedly pelted stones on their vehicle at Ubhawal village, the native village of Mr Sukhdev Singh Dhindsa.




More women choose death in J&K
Survey reveals dehumanising side of militancy
JAMMU, Sept 26 — Even in the absence of any official or non-official survey, police records have revealed that the rate of suicide among women in Jammu and Kashmir has touched a new high during the past seven years.
EARLIER STORIES
(links open in a new window)
17 rockets fired in Rajouri
September 26, 2000
States asked to share oil price burden
September 25, 2000
States asked to share oil price burden
September 25, 2000
Oil price hike in next 48 hours
September 24, 2000
All set for oil price hike
September 23, 2000
Advani drubs West Bengal on violence
September 22, 2000
10 Pak troops killed
September 21, 2000
Floods play havoc in West Bengal
September 20, 2000
PM's no to curbs under CTBT
September 19, 2000
India acquiring new role in S. Asia: PM
September 18, 2000