Putin to discuss Afghanistan
MOSCOW, Sept 27 — Afghanistan, international terrorism related with religious fundamentalism will figure prominently during the talks between Russian President Vladimir Putin and Prime Minister A. B. Vajpayee beginning next week.
THE TRIBUNE MAGAZINES
On Mondays


On Sundays

On Saturdays

IN PASSING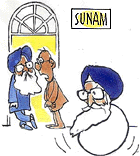 I hope Barnalaji will not make us SAD!

by Sandeep Joshi
INDO-RUSSIAN COMMON INTERESTS
(Edit page)
Harkat leader among 7 killed
SRINAGAR, Sept 27 — A top militant of Harkat-ul-Mujahideen, allegedly involved in rocket attacks on Civil Secretariat, was among seven persons killed in an encounter at Parimpora on the outskirts of Srinagar city this morning.
Flood water enters Calcutta
CALCUTTA, Sept 27 — High tides rising up to 6.29 metres (about 20 feet) from the swollen Hooghly river gushed into the metropolis today inundating several localities as the toll in West Bengal floods rose to 561 with 45 fresh deaths prompting Chief Minister Jyoti Basu to term the situation as a "national disaster".
Ahir belt to start stir on water
NARNAUL, Sept 27 — The INLD government is likely to face the first major challenge in south Haryana, mainly from the Ahirwal belt spanning over Mahendragarh, Rewari and Gurgaon districts, with fresh stirrings in these areas against the alleged discrimination in distribution of water, jobs and development projects.
EARLIER STORIES
(links open in a new window)
19 militants killed in encounters
September 27, 2000
17 rockets fired in Rajouri
September 26, 2000
States asked to share oil price burden
September 25, 2000
States asked to share oil price burden
September 25, 2000
Oil price hike in next 48 hours
September 24, 2000
All set for oil price hike
September 23, 2000
Advani drubs West Bengal on violence
September 22, 2000
10 Pak troops killed
September 21, 2000
Floods play havoc in West Bengal
September 20, 2000
PM's no to curbs under CTBT
September 19, 2000
India acquiring new role in S. Asia: PM
September 18, 2000