Thursday, October 12, 2000,
Chandigarh, India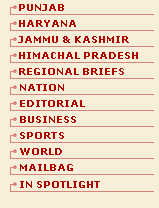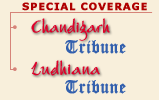 H I M A C H A L P R A D E S H
Apple gets good price despite bumper crop
SHIMLA, Oct 11 — The apple growers of Himachal Pradesh are a happy lot. Despite a bumper crop, the market has, by and large, remained stable throughout the season, fetching reasonably good return for their produce.
HVC (M) on lookout for tie-up
SHIMLA, Oct 11 — After being denied the status of the real Himachal Vikas Congress to his faction by the Election Commission, the Minister for Public Works, Mr Mohinder Singh, is now probing the possibility of a tie-up with some national-level party supporting the BJP government at the Centre.
Congmen unhappy with poll panel
DHARAMSALA, Oct 11 — The Kangra District Congress Committee president and a sitting MLA, Mr B.B.L. Butail, along with senior party leaders today expressed dissatisfaction over the party's State Election Authority (sea's) summary dismissal of election complaints.
Yellow dust bathes HP hills
SHIMLA, Oct 11 — The long dry spell has turned the town yellow with a thick layer of deodar pollen spread over tin rooftops as well as the ground.
Sat Mahajan denies deserting Virbhadra
NURPUR, Oct 11 — Mr Sat Mahajan, Himachal Pradesh Congress Committee chief has denied any factionalism in the party on the eve of AICC organisational election.
Compensation hike on cards
SHIMLA, Oct 11 — The Himachal Pradesh Government is considering a proposal to enhance the compensation to the families of those killed by wild animals from Rs 25,000 to Rs 1 lakh.
Organisational poll results marginalise Virbhadra Singh
October 11, 2000
Hike in gas prices will hit forests: Cong
October 10, 2000
Results of 64 constituencies out
October 9, 2000
Stay against new BCC 'office-bearers'
October 8, 2000
Roads become too narrow for vehicles
October 7, 2000
Resignations of Mayor, 13 others rejected
October 6, 2000
Sharma denies being sidelined
October 5, 2000
Tales of Kulu Dasehra
October 4, 2000
Farm policy being reviewed: Shanta
October 3, 2000
Security for staff on exam duty
October 2, 2000
Shanta defends ministers
October 1, 2000