Thursday, October 12, 2000,
Chandigarh, India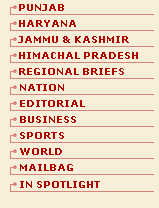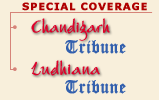 P U N J A B
Jagir Kaur awaiting Badal's nod?
JALANDHAR, Oct 11 — Has Bibi Jagir Kaur been waiting for a nod from the Punjab Chief Minister, Mr Parkash Singh Badal, the Shiromani Akali Dal high command to plan her surrender before the CBI in the light of developments and mounting of pressure by the latter?
Justice on paddy rate after death
SAMANA, Oct 11 — For 50-year-old Avtar Singh of Kakra village in this subdivision justice took time is being delivered. One week after he committed suicide after being unable to sell his paddy crop at a reasonable rate, his produce was sold at slightly higher prices.


Villagers sympathise with Amar Kaur whose husband committed suicide after he was unable to sell his produce.
— Photo by Subhash Patialvi
Cops indicted in Dal Khalsa case
AMRITSAR, Oct 11 — The Punjab State Human Rights Commission has observed that the arrest of Kanwar Pal Singh, the then secretary general of the Dal Khalsa by the Amritsar police in June 1999 was motivated by other than legal and legitimate reasons.
FCI: 7.36 lakh tonnes of paddy procured
October 11, 2000
Bibi spotted in Begowal
October 10, 2000
Cong plans offensive on paddy issue
October 9, 2000
Arhtiyas directed to give receipts to farmers
October 8, 2000
FCI chief's remark creates panic
October 7, 2000
Crucial SGPC meeting put off
October 6, 2000
Badal rules out mid-term poll
October 5, 2000
SHSAD looks for new rebels
October 4, 2000
Paddy growers yet to get payment
October 3, 2000
Poor 'corrupt' food inspectors
October 2, 2000