PM's walking exercise put off
MUMBAI, Oct 13 — The crowds had thinned out. The excitement was on the wane. The security was unobtrusive. At Mumbai's Breach Candy Hospital where Prime Minister Atal Behari Vajpayee underwent surgery on the left knee last Tuesday it was near normalcy time.
THE TRIBUNE MAGAZINES
On Mondays


On Sundays

On Saturdays

IN PASSING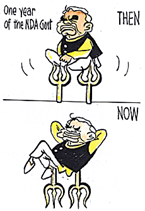 by Sandeep Joshi
RSS unhappy with NDA
AGRA, Oct 13—As the Prime Minister, Mr Atal Behari Vajpayee, celebrated the completion of one year in office, the Rashtriya Swayamsevak Sangh (RSS) today expressed displeasure over the functioning of the BJP-led NDA government at the Centre,saying, "We changed governments, parties and slogans" but with no desired result.
Ratnasiri sworn in Lanka PM
COLOMBO, Oct 13 — A People's Alliance government headed by Mr Ratnasiri Wickremanayake assumed office for the second time in Sri Lanka today even as the country was mourning the death of elderly stateswoman Sirimavo Bandaranaike.
Pilot,woman killed in MiG crash
JAIPUR, Oct 13 —An Indian Air Force MiG-21 aircraft crashed on a cluster of houses at a village in Bikaner district of Rajasthan today, killing its pilot and a woman on the ground, police sources here said.
Army jawan among 19 killed in J&K
SRINAGAR, Oct 13 — Seventeen militants, including four Pakistani infiltrators, and an Army jawan and a civilian were among the 19 persons killed while the security forces arrested three militants, including a self-styled commander, in the state during the past 24 hours.
Damage-control bid by SGPC
AMRITSAR, Oct 13 — The Shiromani Gurdwara Parbandhak Committee has launched a damage control exercise in favour of Bibi Jagir Kaur who is allegedly evading arrest by the CBI these days.


All medical colleges to go online
CHANDIGARH, Oct 13 — All medical colleges in the country will go online soon so as to facilitate diffusion of the latest information on research and developments in the field of medicine and health care, says Dr C.P. Thakur, Union Minister of Health and Family Welfare, maintaining that medical colleges in the country were in a sorry state.
EARLIER STORIES
(links open in a new window)
Rao, Buta get 3 years' RI
October 13, 2000
Paddy: Centre softens stand
October 12, 2000
RBI policy to boost markets
October 11, 2000
Jaya gets 3-year RI in Tansi case
October 10, 2000
Uma raises banner of revolt
October 9, 2000
Farmers gherao Central team
October 8, 2000
Mamata withdraws resignation
October 7, 2000
80 pc of paddy defective: FCI
October 6, 2000
Vajpayee rules out immediate rollback
October 5, 2000
India, Russia forge strategic tieup
October 4, 2000
Mamata plans front sans BJP
October 3, 2000