Monday, October 16, 2000,
Chandigarh, India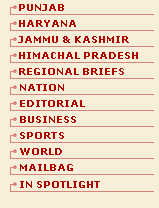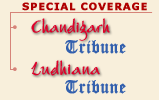 P U N J A B
Cong not to move confidence motion
JALANDHAR, Oct 15 — Even as the Bahujan Samaj Party has withdrawn its support to the ruling BJP-SAD alliance in the local municipal corporation in protest against the Mayor's move to remove two roundabouts named after Dr B.R. Ambedkar and Bhagwan Balmiki yesterday, there is virtually no threat to the Mayor, Mr Suresh Sehgal, with the 22-member Congress group in the House deciding not to bring a no-confidence motion against him.
Jagir Kaur, Pannu may cross swords
AMRITSAR, Oct 15 — Bibi Jagir Kaur, President of the SGPC, and Mr Balbir Singh Pannu, its senior vice-president, may cross swords at the executive meeting of the committee which is likely to take place next month as both have started collecting facts against each other.
GHTP unit may be closed today
LEHRA MOHOBAT, Oct 15 — Even as the Punjab State Electricity Board (PSEB) authorities are yet to commission any unit of the Ropar Thermal Plant, a unit of 220 mw of Guru Hargobind Thermal Plant (GHTP) here is likely to be closed tomorrow if the stock of coal is not replenished.
Fake cough syrup factory found
BATHINDA, Oct 15 — Another factory making fake cough syrups in this town has been detected.
Lecturers not given pension
MANSA, Oct 15 — As many as 10 lecturers of the local Nehru Memorial Government College who have attained the age of superannuation in the past few months have been facing pecuniary difficulties due to the alleged indifferent attitude of the state government.
Trains cancelled yet again
October 15, 2000
Licences of 10 arhtiyas suspended
October 14, 2000
Paddy damage 64.4 pc : PAU
October 13, 2000
Jagir Kaur awaiting Badal's nod?
October 12, 2000
FCI: 7.36 lakh tonnes of paddy procured
October 11, 2000
Bibi spotted in Begowal
October 10, 2000
Cong plans offensive on paddy issue
October 9, 2000
Arhtiyas directed to give receipts to farmers
October 8, 2000
FCI chief's remark creates panic
October 7, 2000
Crucial SGPC meeting put off
October 6, 2000
Badal rules out mid-term poll
October 5, 2000